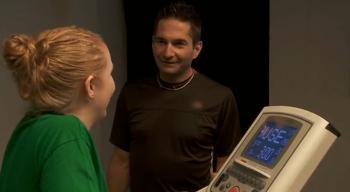 Like many young people, Ray Zahab started smoking in his early teens and eventually became a pack-a-day smoker.
Then about 10 years ago, when he was nearly 30 years old, he managed to quit.
This turned out to be a life-changing decision that not only opened a path to health and fitness but led to multiple adventures across the world that involve helping inspire youth and supporting causes that make a better world.
In 2004, driven by "challenge, distance, and discovery," Mr. Zahab took up running and became an ultra-marathon runner.
Since then, his feats of endurance have included runs across the entire Sahara desert, Tunisia, Siberia's frozen Lake Baikal (the world's deepest lake), Baffin Island, and along some of Canada's extreme coastal trails.
Last January he became the first person to trek from Hercules Inlet to the Geographic South Pole on only snowshoes, without using skis.
Mr. Zahab's expeditions have helped raise awareness and funds for bed nets against malaria and clean drinking water in Africa, and through his organization impossible2Possible (i2P), he dedicates himself to inspiring and educating youth through adventure learning.
But the adventurer with a heart has never forgotten how hard it was for him to quit smoking. So he's taken up a new project, serving as the host of Smober Up, an online community aimed at helping smokers stop lighting up and become "smober."

Launched last month, Smober Up features a series of "webisodes" that document the challenges and successes along the quit-journeys of eight Canadians.
"Something like 75 percent of first-time quitters fail their first attempt, and that's a dramatic statistic," said Mr. Zahab. He himself failed "quite a few times" after deciding in 1998 that he would completely quit by New Year's Eve 1999. But committing to a deadline was what worked for him.
"It was knowing that it was my drop-dead date that really compelled me to do it," he said.
According to Health Canada, 37,000 people will die this year in Canada due to smoking. Among them, more than 300 non-smokers will die of lung cancer and at least 700 non-smokers will die of coronary heart disease, caused by exposure to second-hand smoke.
At over 10 puffs per cigarette, pack-a-day smokers inhale an estimated 73,000 puffs of dangerous chemicals in cigarettes annually.
"Having a support network—a place for you to voice your opinions or learn from others or take inspiration from others—can really help to drop that statistic," Mr. Zahab said.
Smober Up will let viewers follow the "quit-journeys" of Fraser, Jaime, Kevin, KJ, Shelley, John, Kathleen, and Sumit on YouTube and Facebook, and provide a supportive forum for those considering quitting or who are on their own quit-journey.
"Smoking is like a nasty friend that you can't get rid of. You don't want it around but at the same time you're just not ready to kick it to the curb," says Shelley on one of the videos. She smokes in her garage because she doesn't want to smoke around her children.
"I want to be a good role model for them," she said. "I want to be stronger than smoking, because I want them to be strong too. That's my number one reason [for wanting to quit]."
John's sister, a non-smoker, died from lung cancer in 2009, and he wants to quit because of "the promise that I made my sister, that one day I would quit in honour of her and respect for her life."
One of the biggest challenges is breaking the routine of smoking, Mr. Zahab said.
"It becomes a life pattern. It's habitual, and so you're used to having that cigarette in your hand, you're used to taking a cigarette break . . . and so breaking those cycles, as human beings it's very difficult to do that."

A recent Angus Reid survey of 1,005 Canadian adult smokers indicated that 75 percent of smokers have tried to quit more than once and failed. This is despite believing that smoking has negative effects on their life, including their health (48 percent), fitness (46 percent), and finances (37 percent).
The survey, conducted for the makers of Nicorette, a line of stop smoking aids designed to help smokers control their craving, also found that 85 percent of smokers say they want to quit but only 32 percent believe they will succeed.
To protect young people from unscrupulous marketing practices by the tobacco industry, new legislation came into force on July 5 making it illegal for retailers to sell cigarettes, little cigars, and blunt wraps containing additives or flavourings aimed at enticing children and youth.
"It's not until you become smoke-free that you look back in retrospect and say, 'Oh, I feel so good now compared to how I felt before.' [It's] just an overall sense of wellbeing, you just feel like you're treating yourself better," Mr. Zahab said.
"When you quit smoking it almost seems ridiculous that you ever did. You look back and think, 'I can't believe I ever smoked.' Your head clears."