U.S. Embassy Officials Visit Rights Advocates in Beijing
December 24, 2006 12:00 am Last Updated: December 24, 2006 12:00 am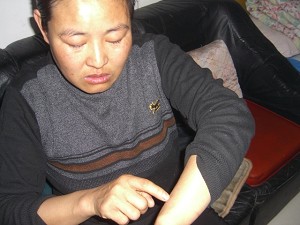 CHINA—On Dec. 20, U.S. Embassy First Secretary Mr. Bruce J. Levine and Second Secretary Mr. Stephen Goldrup met with Beijing rights advocates Ye Guoqiang and Zheng Mingfan at Ye's home regarding their claims of abuse and torture by the Chinese regime.
The U.S officials expressed their sympathy towards Ye and Zheng's plight and said that the U.S. government will continue to pay attention to them and their relatives. Ye Guoqiang's brother, Ye Guozhu, is still in prison.
Ye Guoqiang told The Epoch Times that he and Zheng Mingfan met with the two U.S. officials for one hour respectively. They told of their suffering in communist prisons and how the regime has violated their human rights. Zheng Mingfan also showed the U.S. officials her bruises from the torture she went through in prison.
The authorities illegally demolished the Ye family's house because of the Beijing's 2008 Olympic project. After demolishing their house, the authorities refused to arrange another living place or financial compensation for them. The family's personal belongings were also lost amidst the demolition.
On Oct. 1, 2003, in a desperation suicide attempt, Ye jumped into the Jinshui River near Tiananmen Square. Because of his suicide attempt, he was sentenced to two years in prison with the charge of disturbing social order.
Ye told The Epoch Times that after he was rescued from the river, the police arrested him and said, "No one would even care if you drown in the Hucheng River [in a rural area], but you will be sentenced for jumping into the Jin Shui River."

Both Ye and his wife suffer from disabilities. Ye said that his eyesight is impaired and that his wife is mentally handicapped. However, the government has not provided assistance for their disabilities and has deprived them of their basic human rights. Currently, they cannot afford to send their child to school.
Ye said, "I was tortured using many methods in prison such as the 'tiger bench,' hanging, beating, electrical batons. They know very well that you are innocent, but they force you to make a confession. Due to orders from upper authorities, the prison police and prison head do not hesitate to beat you. They are evil people."
Ye also told The Epoch Times that he had visited his brother in prison on Dec. 18. His brother's health condition is very poor. Every day the prison guard tortured him to try to make him admit guilt. It is commonly known in China that this is a method used by the communist regime to brainwash those who insist on their innocence.
Zheng Mingfan said that during her two years of imprisonment, because she insisted on her innocence, guards often deprived her of a healthy diet and frequently tortured her. Before imprisonment, she was very healthy, but due to malnutrition over a long time, she has become very weak. Currently, she needs assistance to walk.