Police said a Missouri 17-year-old faces multiple charges after allegedly firing a handgun at a Maryland Heights police officer, hitting him with two rounds.
Menuis Ellis, of Pine Lawn, faces two counts of first-degree assault, two counts of armed criminal action, and a count for stealing something valued less than $150, police said in a statement. His bond is set at $1 million.
"The officer was treated at a local hospital for two gunshot wounds," the Maryland Heights Police Department said in a statement following the June 20 shooting, which the department's police chief called "heartbreaking."
Maryland Heights Police Chief Bill Carson said at a press conference Thursday the injuries of the 38-year-old officer, described as a nine-year veteran of MHPD with 14 years of overall policing experience, were non-life threatening.
"We're relieved that the injuries were not more serious than they appeared to be at first," Carson said.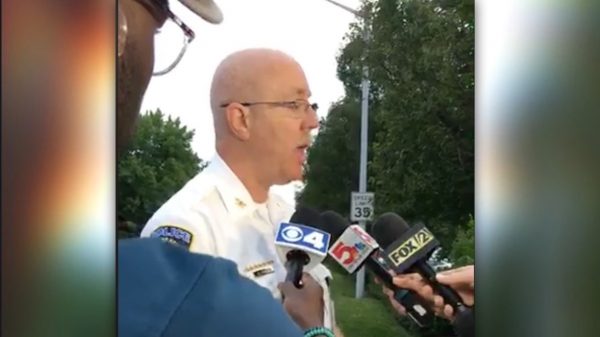 What Happened?
Two Maryland Heights Police Department officers were on patrol Thursday following a spate of car break-ins.
Chief Carson told reporters at the presser that "a lot of communities have had problems with car break-ins, apartment parking lots, hotel parking lots, different locations throughout the municipality. Unfortunately, it seems like we have been getting a lot of guns stolen out of cars, people leaving guns in their cars."
"So we had a rash of car break-ins," Carson continued. "We had officers out on surveillance trying to catch the people who were doing that. So these officers were on a specific assignment to watch the parking lots, to try to catch people that were breaking into cars."
While patrolling the area of Gallery Drive in Maryland Heights, located about 30 minutes away from St. Louis, the two officers saw someone trying to break into a vehicle, police said in a statement.
"Officers approached the suspect and identified themselves as police officers," the police chief said, adding, "the suspect turned and opened fire on both officers."
"I heard about 7 to 10 gunshots, the first thing I did was pray. May have just lost their life," said area resident Taunia Stewart, according to KMOV.
The suspect struck one of the officers twice, once in the upper thigh and once in the groin, according to KSDK.
"The second officer returned fire," police said, adding that the suspect then led officers on a brief foot chase before being caught.
According to court documents cited by KSDK, Ellis admitted he shot at the officers and stole a purse from the car containing $50.
"That's another thing that's really scary for our officers. Because we're getting so many guns stolen out of cars, the people that we are encountering that are breaking into cars are armed, which makes it even more scary," Carson said at the press conference.
"A second suspect was also taken into custody at the scene," police said, adding that investigators also recovered a gun. Officials cited by Fox said the second suspect, 26-year-old Davina Parker, acted as the getaway driver.
Police said Parker has been charged with one count of theft and her bond is set at $2,500.
Carson told reporters that the injured officer—whom the chief praised as "outstanding"—is expected to make a full recovery.
The police chief added that this is the first time in about nine years that an MHPD officer had been shot.
Officer Dies After Being Shot During Stand-Off
The incident recalls the case of a rookie 26-year-old female police officer who was shot and killed on June 19 in Sacramento as she responded to a domestic disturbance that later turned into a stand-off with police.
Officer Tara O'Sullivan lay wounded in the yard of the suspect's house for 45 minutes before officers, pinned down by the gunman's rifle fire, finally rescued her under the cover of an armored truck, police told reporters.
O'Sullivan was pronounced dead at UC Davis Medical Center within hours, Deputy Police Chief Dave Peletta told reporters during a news conference at around 12:40 a.m. local time.
The stand-off ended at 1:54 a.m, according to the Sacramento Bee, citing police radio traffic, about one hour after officials had announced the death of the first Sacramento officer in 20 years.