Tupelo, MS: Tornado Slams Mississippi Town, Leaves Severe Damage (+Photos, Video)
April 28, 2014 3:42 pm Last Updated: June 24, 2015 8:07 pm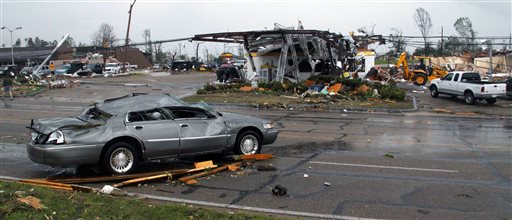 Tupelo, Mississippi got slammed by a tornado on Monday, damaging every building in a two-block area south of U.S. Highway 78.
Some buildings had their roofs sheared off, while power lines had been knocked down completely or bent at 45-degree angles. Road crews were using heavy machinery to clear off other streets.
Deborah Pugh, spokeswoman for the Northeast Mississippi Medical Center in Tupelo, said the hospital received 24 patients. She was 20 had minor injuries and were expected to be treated and released. She four others were undergoing further evaluation.
Lee Bowdry, Lee County Emergency Management Agency director, told the Daily Journal that there aren't any deaths reported yet other than one in Verona, south of Tupelo, but there are walking wounded.
There's severe damage in North Tupelo, especially in the area of North Gloster Street, Green Street and the Lakeshire subdivision. Two gas stations got destroyed.

Elquin Gonzalez, owner of the Texaco gas station and quick stop on North Gloster Street in Tupelo, Miss. begins cleaning up his business after a tornado touched down on Monday, April 28, 2014. (AP Photo/Jim Lytle)
West Tupelo sustained lesser damage, including downed power lines and trees.
Damage was also reported in Itawamba County; at least eight houses were damaged across the Centerville-Ratliff line.
More homes were damaged or destroyed in the Kirkville area.
Pictures from Tupelo show severe damage to some buildings, particularly in North Tupelo. A curfew of 9 p.m. has been announced by the city.
Local broadcaster WTVA-TV was evacuated due to the tornado, as seen in one of the videos above.
Before the storm, people were urged to take shelter.
Jeff Piotrowski, a storm chaser, initially said that the tornado is 1/4 a mile wide.
Story developing; check back for updates
The Associated Press contributed to this report.