President Donald Trump has signed an executive action aimed at cutting regulations, and said at a White House breakfast he wanted to "create an environment for small business." The executive action requires government agencies requesting a new regulation to identify two that they will cut.
Trump had pledged during the election campaign to reduce the regulatory burden on small companies, AP reported.
"This will be the biggest such act that our country has ever seen," Trump said Monday, according to Politico. "There will be regulation, there will be control, but it will be a normalized control where you can open your business and expand your business very easily. And that's what our country has been all about."
"If you have a regulation you want, No. 1, we're not gonna approve it because it's already been approved probably in 17 different forms," the president added. "But if we do, the only way you have a chance is we have to knock out two regulations for every new regulation. So if there's a new regulation, they have to knock out two."
House Speaker Paul Ryan lauded the order on Monday.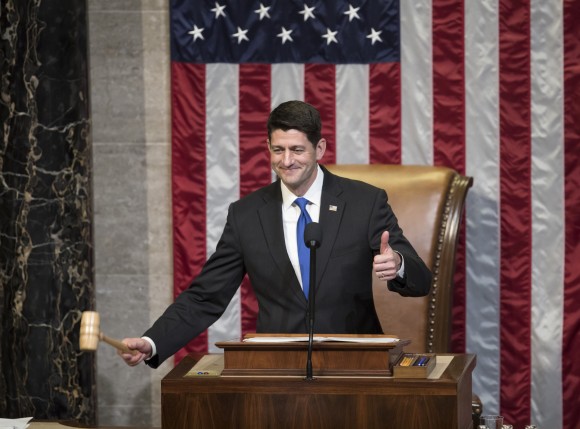 "The explosion of federal regulations has hamstrung small business growth and crippled our economy," he said in a statement. "President Trump's executive order helps bring the nation's regulatory regime into the 21st century by putting regulators on a budget, and addressing the costs agencies can impose each year."
Trump explained that in the U.S., small businesses have been "treated very, very badly," adding: "As you people know better than anybody, it's almost impossible now to start a small business. And it's virtually impossible to expand your existing business because of regulations."
The comments weren't just to criticize former President Obama, he said, but on many of his predecessors.
"It's a knock on everybody," Trump said, Politico reported. "It got particularly bad in the last eight years."
Last week, Trump signed orders that allow work to proceed on the Keystone XL and Dakota Access pipelines, two projects that stalled during the Obama administration. Many small business owners have advocated that the pipelines be built because they would offer chances for small companies involved in construction and in energy industry support.
Trump also signed an order withdrawing the United States from the Trans-Pacific Partnership. He has often said the deal was detrimental to American businesses. Some small business advocates had supported the free trade agreement, however, because it would have relaxed restrictions on U.S. companies that want to export to countries bordering the Pacific Ocean.
The Associated Press contributed to this report.