President Donald Trump is pushing hard on deregulation and has recently ordered his team to rebuild the government from scratch to eliminate inefficiencies that affect economic growth.
Since taking office in January, Trump has purged over a dozen government regulations by using the Congressional Review Act, which enables Congress to pass legislation repealing regulations finalized in the last 60 legislative days.
It is a major accomplishment within the president's first 100 days, said Mick Mulvaney, director of the Office of Management and Budget (OMB), at a White House briefing.
More repeals may be forthcoming before the 60-day window ends on April 28.
The executive branch of government has never been rebuilt. It has grown organically over the course of the last 240 years.
, director, Office of Management and Budget
Most recently, Trump announced plans to cut down the executive branch, with the objective of eliminating redundant federal agencies and slashing costs. Trump appointed Mulvaney to lead the project with a six-month deadline for an overhaul plan.
Complying with all federal regulations costs roughly $1.9 trillion annually, according to the Competitive Enterprise Institute (CEI), a think tank based in Washington.


"As bureaucracy sprawls, no one can say with complete authority exactly how many federal agencies exist," Clyde Wayne Crews, vice president for policy at CEI, stated in a report.
That means the number of contractors, employees, and rules is not known, he explained.
The recent executive orders could be a step in the right direction toward reducing regulatory burdens.
Regulations are creating a considerable drag on the economy. The Mercatus Center at George Mason University found that regulations are costing the economy an estimated 0.8 percent of GDP per year because of their negative impact on the investment environment.
At an April 5 press briefing, White House Director of Legislative Affairs Marc Short estimated that the regulations cut by the Trump administration's use of the Congressional Review Act would save the economy $10 billion in costs over 20 years.
Mulvaney posted a video presenting his project of reinventing the government and asked the public to provide feedback about their experiences with the agencies.
Federal departments and agencies issue more than 3,000 regulations every year, according to CEI.
To avoid the creation of unnecessary regulations, Trump signed in January an executive order that requires two past rules to be discarded for every new regulation.
"It has long been the case that there are far more regulations than laws. That is troublesome enough," stated Crews.
With tens of thousands of announcements annually, agencies express interpretations and force people or companies to comply without really understanding the costs, he wrote.
Dodd-Frank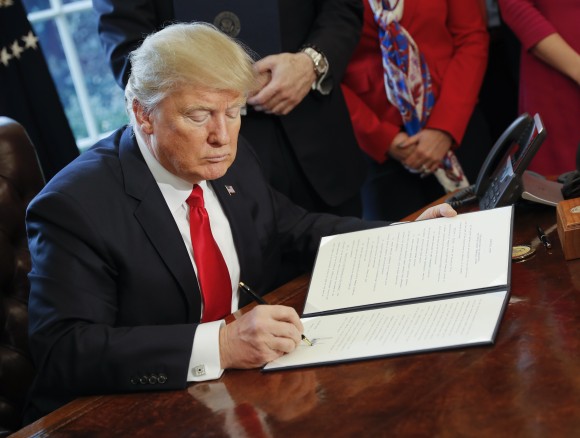 The Dodd-Frank Act exemplifies the inefficiencies and difficulties created in the financial sector by poor regulation, according to the House Committee on Financial Services. The 2,300-page legislation will cost the economy $27 billion over the next decade, the committee reports.
There are at least six federal agencies that have regulatory authority over banks. Each state also has its own banking oversight.
This has resulted in a lack of coordination among various agencies. Each regulator wants to exercise its own authority. However, they sometimes conflict or overlap when assessing the same issue. For example, M&T Bank had three different agencies analyze its mortgage portfolio, according to its 2015 annual report.
"M&T underwent 36 different inspections across 10 agencies. Each review brought as many as 15 regulators to the bank and, at one point last year, eight exams were being conducted simultaneously," stated Robert G. Wilmers, chairman and CEO of M&T Bank, in the company's annual report.
"It has taken over 200 years to get to where we are today," said Richard Parsons, a former banker and author of "Broke: America's Banking System."
"You don't try to re-architect a crummy house that doesn't work. What you need to do is start over," he said. 
Trump is not the first president to call for streamlining the government. But his advantage is that he can forge ahead with his plan to redesign federal agencies while his party has control of both houses at least through the 2018 midterms, Parsons said.