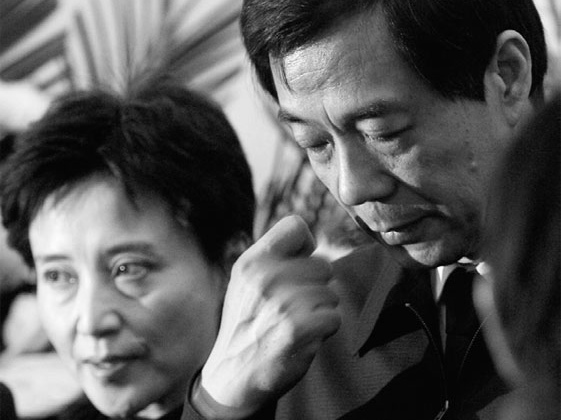 The purged Chinese Communist Party official Bo Xilai, his wife Gu Kailai and, Wang Lijun, the high ranking police officer whose flight to a U.S. consulate in February revealed a power struggle in the top Chinese leadership, will face trial as early as next month, overseas Chinese online news source Boxun reported, citing insiders. 
It is possible that Gu Kailai, who is the suspected killer of British businessman Neil Heywood, will face a death sentence. Although Bo Xilai is also suspected to be behind the murder, he will not face a death sentence, the insider said. Bo Xilai and Wang Lijun will most likely be sentenced between 16 years to life. Wang Lijun will be tried on three charges: treason, serious corruption and torture.
According to another source cited by the South China Morning Post, a special legal team has been established to set up the trial of Wang Lijun, which the source said will take place in Chengdu.
Wang sought refuge in the U.S. Consulate in Chengdu, a major city in Southwestern China on Feb. 6, and reportedly stayed overnight before being taken into custody by central authorities. It is understood that Wang passed on sensitive information to U.S. officials. 
Wang's attempted defection brought out into the open a power struggle that the CCP leadership had preferred to keep out of public view. 
The paper reported that analysts say central authorities are looking to have the scandal dealt with before the 18th Communist Party Congress which is scheduled to be held later this year. 
The South China Morning Post also quoted another source who said that Wang had been acknowledged to "have made a major contribution" to the Party's investigations into Bo. 
In March it was reported by various media that Bo had already been placed under house arrest by the Central Guard Bureau, the agency responsible for the security of the Party's top leaders. Bo has been a core member of a hardline faction led by former Party leader Jiang Zemin that has also opposed current Party head Hu Jintao and Premier Wen Jiabao since the two took office in 2003. 
As part of that, it is believed that Wang passed onto U.S. officials information about a plot to derail Xi Jinping's succession to become the Party's next leader by Bo and the powerful chief of internal security forces Zhou Yongkang. Xi Jinping, an apparatchik with a clutch of posts, including vice president of the People's Republic of China, is supposed to be the next leader of the CCP. 
Read original Chinese article.
chinareports@epochtimes.com
The Epoch Times publishes in 35 countries and in 19 languages. Subscribe to our e-newsletter.
Click www.ept.ms/ccp-crisis to read about the most recent developments in the ongoing crisis within the Chinese communist regime. In this special topic, we provide readers with the necessary context to understand the situation. Get the RSS feed. Get the new interactive Timeline of Events. Who are the Major Players?