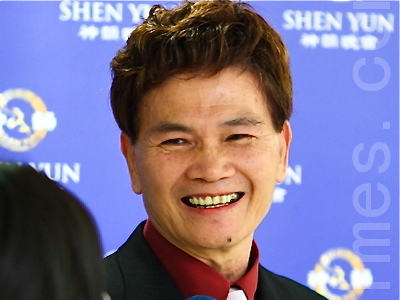 TAICHUNG, Taiwan—Mr. Dingguo Huang, chairman of the Taiwan Tourism Service Association, who has previously watched Shen Yun Performing Arts in New York and Los Angeles, felt very excited when watching the performance again in Taiwan at the Taichung JhungShan Auditorium on March 29.
Mr. Huang said, "This is the first time I'm seeing Shen Yun in Taiwan. I feel very thrilled. As the 5,000-year Chinese culture needs to be spread, I think only through the Shen Yun Performing Arts world tour can people around the world see it."
Adapted from the essence of Chinese civilization, and through diverse and exquisite artistic performances by means of classical, folk and ethnic dance, music and song, Shen Yun Performing Arts has become the world's premier classical Chinese dance and music company.
Though Mr. Huang has watched the Shen Yun performance twice in the United States, he took advantage on his return to Taiwan to see the performance again. He said, "It was simply because of the two words, 'Shen Yun,' that made me want to see it again. Because 'Shen Yun' contains all the knowledge of the Chinese nation that needs to be spread."
Mr. Huang said with excitement, "After living abroad for a long time, I have great expectations for Taiwan. I feel that the spirit of Shen Yun Performing Arts is in fact our 5,000-year-old culture that should be carried forward. Nowadays, only the Shen Yun Performing Arts' world tour makes it possibly for the entire world to see Chinese culture and civilization."
Dingguo Huang gave further praise to Shen Yun, saying that it is a top performing arts company, and has become the hope for the revival of Chinese culture. He said, "Ah! I suddenly cannot use words to express my feelings about it at the moment. Anyway, only Shen Yun can have this kind of performance, and it has no rivals. I am really longing to see Shen Yun again, as I love watching the performance. I am very happy!"
Reporting by Yuyan Huang & Joseph Wu.
Shen Yun Performing Arts, based in New York, tours the world on a mission to revive traditional Chinese culture. Shen Yun Performing Arts New York Company will perform in seven cities in Taiwan until April 8 and then continue to top venues in Australia and New Zealand.
For more information visit ShenYunPerformingArts.org
Read the original Chinese article