Tour Guide in China Threatens to Knife Tourists for Not Shopping Enough
July 8, 2013 3:32 pm Last Updated: July 8, 2013 3:32 pm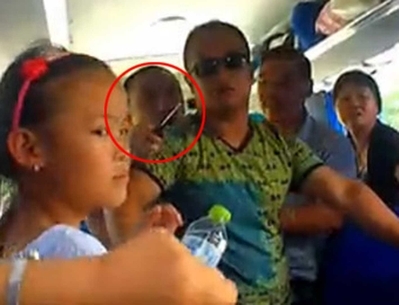 A Chinese tour guide brandished a knife at tourists on a bus on July 3, threatening to kill them because they hadn't shopped enough on a survey of the Great Wall and a Ming Dynasty tomb that took detours to six shopping centers. 
Before arriving at the UNESCO world heritage sites, the tour guide shouted angrily at the fifteen families on the bus for failing to buy enough things on the one-day tour of Beijing, according to a video recorded by a witness.
When the tourists demanded the bus driver take them to historical landmarks, the tour guide pulled the knife out, while a man in a green shirt and shades shouted "I am gonna kill you!" followed by a range of profanities. It is unclear whether the second man was the bus driver or another tour guide. While children were present, the guide reportedly asked his colleague beat up people who stood up to them to defend other tourists. 
The guide then dragged six tourists off the bus and abandoned them in a deserted woods near Beijing, on the way to the historical sites.
Netizens on Sina Weibo, China's Twitter-like platform, were incensed at the tour guide's behavior and offered suggestions for how to prevent more of these incidents. 
"Shady one-day Beijing tours aren't a rare phenomenon," a netizen wrote on Weibo, "People planning on visiting China shouldn't easily believe in any cheap tour package. File a complaint if you're ever cheated."
The tour guides of one day tours of Beijing derive their main income from tourists' shopping and consumption, said another netizen. "Greed has become their only principle. The barbaric and ruthless behavior of these tour guides exposes some of the unspoken rules in the touring industry."
Research by Ariel Tian. Translation by Frank Fang.