The last few quarters haven't been the best for U.S. retailers. Department stores like J.C. Penney, Sears, and Macy's announced thousands of layoffs and hundreds of store closures. The layoffs and closures will likely rise as traditional retailers continue to struggle with weak sales and profits, and some may even face bankruptcy.
"The losers are retailers that are stuck in the middle—the department stores that are trying to be all things to all people and some traditional apparel retailers," said Steven Barr, a partner and consumer products leader at PwC Consulting. They include some of the most well-known names in American corporate history.
J.C. Penney announced last month it would close 130 to 140 stores and offer early retirement to nearly 6,000 employees. Sears also said it would shutter 108 Kmart stores and 42 Sears stores, cutting the total number of stores by 60 percent from its 2011 high.
Macy's is continuing with its planned closure of approximately 100 stores, of which 66 were scheduled to be closed by the end of March. The company said it would eliminate more than 10,000 jobs through these store closures and by restructuring its management. Some other household names are faring even worse.
Electronics chains RadioShack and Hhgregg, women's apparel chain BCBG Max Azria, and outdoor retailer Gander Mountain recently filed for bankruptcy.
What is happening right now is an absolute separation between winners and losers.
, partner and consumer products leader, PwC Consulting
But while some traditional companies are struggling, others are ahead of the curve.
"What is happening right now is an absolute separation between winners and losers," said Barr. The retailers that are offering an extraordinary digital and omnichannel experience are still thriving.
Omnichannel retailers have effectively integrated their in-store and online channels and are now gaining market share. Traditional brick and mortar company Wal-Mart is one of them. The retail giant acquired shopping website Jet.com last year and became the second-largest online retailer by traffic after Amazon, according to a PwC research.
Traditional retailers are losing foot traffic and sales to online stores as consumers increasingly shift to online shopping. The e-commerce giant Amazon is the biggest winner, even though total digital commerce makes up only around 10 percent of total retail sales, said Barr. So it is not all Amazon's fault.
In addition to digital and omnichannel winners, retailers with lower price points and fast-fashion chains are also doing exceptionally well, according to Barr.
The off-price retailers such as T.J. Maxx and Ross Stores and fast-fashion brands like Zara and H&M are increasingly attracting middle-class shoppers and are gaining market share.
Bankruptcy Risk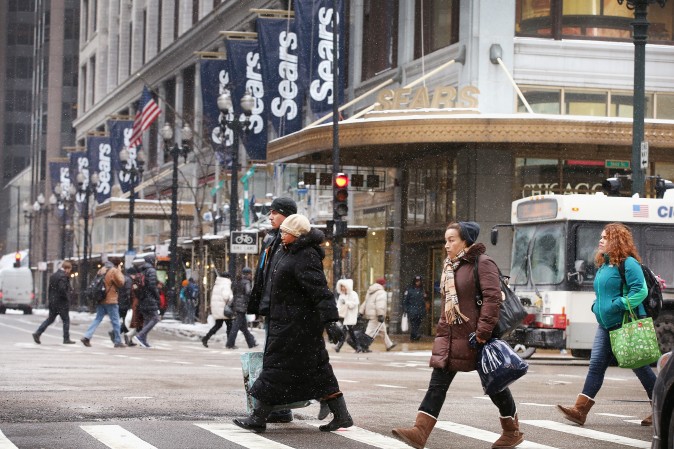 Retailers that haven't mastered the digital transition yet have often committed strategic blunders that left them with a heavy debt load.
"The retailers that I define as 'stuck in the middle' have been acquired over the years, or taken private through private equity transactions, or in an effort to survive, have merged with another retailer. And they funded these acquisitions or business combinations through debt," Barr said.


According to a recent report by Moody's Investors Service, this debt is now putting many companies at the risk of bankruptcy.
The number of retailers with a very high credit risk (Caa rating) or near default territory (Ca rating) has tripled over the past six years, according to the report.
"Today, 13.5 percent of our portfolio is comprised of distressed names—the largest showing since the Great Recession," said Moody's Vice President Charlie O'Shea, in a press release.
The retail stores listed in the report include Sears, Nine West, True Religion Apparel, Claire's Stores, Fairway Group, and Payless.
If credit conditions tighten, companies with weak liquidity would be the most vulnerable, according to Moody's.
To make matters worse, these distressed retailers pose challenges to retailers that have healthy balance sheets because they may use irrational pricing to boost sales.
"Highly promotional, sometimes irrational, pricing activity can force the stronger retailer into a race to the bottom or to forfeit sales to preserve margin," O'Shea said.
Underinvestment Problem
Distressed retailers cannot generate enough cash flow to pay down their debt, as they have to invest in technology, distribution, and their in-store experience to stay in the game.
"Currently many retailers are not making money in their digital offerings. While they are achieving high growth rates, they still have not achieved optimal profitability rates because of the significant investment that is required," Barr said.
Most stores did not invest enough over the last decade and now lack the financial resources to make those big investments.
A potential reduction in federal corporate taxes planned by President Donald Trump's administration is positive news for the retail sector. However, the potential implementation of a border adjustment tax, which could make imports more expensive, will be a major blow to the troubled sector, as most retailers are importers.
"I think we are going to see more bankruptcies, more store closures, and higher volumes of mergers and acquisitions in the retail sector," Barr said.