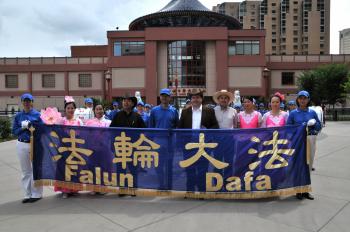 CALGARY—Several dignitaries attended a rally on Saturday morning to welcome the Tian Guo Marching Band and Falun Dafa practitioners of Calgary who took part in the Calgary Stampede Parade.
This was the second year in a row that the Tian Guo Marching Band participated in the Stampede parade. The band, which was first formed in New York City, now has a contingent in seven countries around the world. All Tian Guo musicians practice Falun Dafa, a self-improvement practice consisting of meditation, exercises, and living according to the universal principles of Truthfulness, Compassion and Tolerance.
The rally, which was held at the Calgary Chinese Cultural Centre, was followed by a Falun Dafa parade through Chinatown.

Speaking to the Falun Dafa practitioners, the Honourable Jason Kenney, federal Minister of Citizenship, Immigration, and Multiculturalism, thanked the Falun Dafa Association for "this magnificent contribution to our Calgary Stampede celebration."
"I know that you bring a great deal of colour and enthusiasm to our Stampede celebration and that is appreciated by all Calgarians," he said.
"Let me say that I have a particular respect for the Falun Dafa Association. I know that many of you have come from all across Canada to be here, and many of you in fact are immigrants to Canada, you chose Canada, and you brought your gifts with you, and you're sharing those gifts with other Canadians, and we thank you for that."
One of those gifts, said Mr. Kenney, is a "profound appreciation for peace" that is focused on spiritual values, a willingness to "give of ourselves to others," and appreciation for freedom and freedom of conscious.
Referring to the persecution Falun Dafa practitioners are suffering under the communist regime in China, Mr. Kenney said Canada provides refuge for those who seek freedom and wish to express their spiritual views free of persecution.

"I may say as the Minister of Immigration, we are glad that Canada has given refuge and protection to many practitioners of Falun Gong, Falun Dafa, who otherwise might face terrible persecution."
He also thanked the practitioners for reminding Canadians about the importance of freedom, and noted that Canada has provided a safe haven from persecution.
"I want you to know that we stand in solidarity. All Canadians stand in solidarity with Falun Gong and Falun Dafa practitioners in China . . . who are facing persecution, and we are glad that we are a place of freedom so that you can practice your faith, your convictions freely here as Canadian citizens," he said.
"Thank you all for all you do, to contribute to Canada."