STOCKHOLM—Three men were shot to death and three more injured in an unusually violent incident in Sweden's third-largest city, Malmo.
The shooting took place outside an internet cafe on June 18, in the middle of a busy street downtown, according to local media reports. 
The three men who were killed were gang members involved in serious crime, Malmo police chief Stefan Sinteus said at a press conference.
Despite a general fall in crime, gun violence and violent sex crimes like gang rapes are on the rise, becoming a major issue in the upcoming general election.
The current Green-Left government has been widely criticized over its reorganization of the police force, recruitment problems, and a shortage of police officers.
Meanwhile the nationalist/conservative Sweden Democrat party links rising gang crime to migration and problems with integration—another big election issue.
Criminologist Mikael Rying told Swedish public service television SVT that he views June 18's shooting as one of the worst gang-related shootings in Sweden in 30 years.
One witness told Swedish newspaper Aftonbladet that he heard some 15 to 20 shots fired.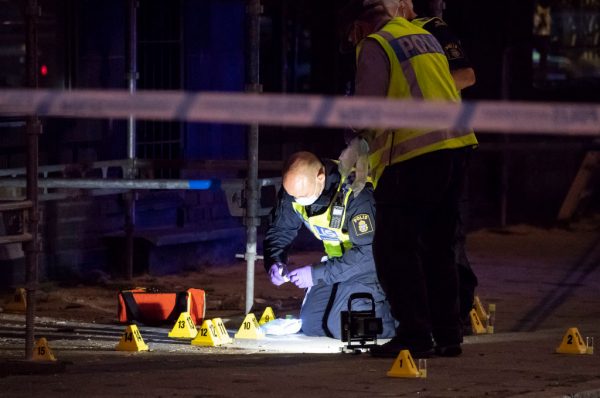 All six men knew each other, but according to the police, there is as of yet no clear motive behind the shooting. Police investigator Niklas Kirschhoff described the crime scene as "chaotic" after the shooting.
Police Chief Sinteus said that there may be more violence to come, in retaliation for the triple killing.
"When these kinds of constellations are involved, there is always a risk," he said.
"Our most important task is to break the back of organized crime," he told local media TT, commenting on the latest shooting.
A local resident, identified only by her first name, Sanna, described the situation in Malmo as "the Wild West."
"It's sad, but I don't think I'm the only one who will tell you that this is everyday stuff now," she said. "It's not supposed to be this way, but I don't feel really safe in Malmo anymore."
June has already seen several shootings in and around the capital of Stockholm.
On June 1, a young man was shot in the face, but survived. On June 5, two men were shot and killed in separate incidents, and on June 13, a man was shot dead in his car in a residential area. 2018 also had a bloody start, with four people shot to death in separate incidents in a single week.
In 2017, 42 people were killed and 140 injured in shootings nationwide, according to statistics from SVT. Most shootings happened in public, in densely populated urban areas.
Gang-related gun violence among young men is high in Sweden compared to other European countries, according to a May report in the European Journal on Criminal Policy and Research. Fatal gun violence among men aged 15-29 was twice as high as the average of the other 12 countries studied, and ten times as high as in Germany, for instance.
The general risk for males of being implicated in, or falling victim of, gun violence has also risen. The period studied stretched from 1996 to 2015.