A group of three friends survived the Las Vegas massacre two years ago, only to have to run for their lives once again when a gunman went on a shooting rampage at the Gilroy Garlic Festival.
"Me, George, and Alicia were found running for cover once again today," wrote Christopher Cook in a Facebook post after he fled the chaotic shooting scene. "We were shaken up, but OK."
In October 2017, Christopher Cook and his brother George were at the Route 91 Harvest Festival in Las Vegas. The outdoor country music event was abruptly turned into a nightmare when Stephen Paddock opened fire on the crowd of concertgoers, killing 58 people and wounding more than 400. It was by far the single deadliest mass shooting in modern American history.
Amidst the panicked crowd, the brothers had split up and George, who was in a wheelchair, was pushed to safety by an off-duty nurse. A photographer captured the dramatic moment of George narrow escape from the gunfire. Christopher also managed to get out of the killing zone unscratched.
The brother connected with Alicia Olive, who worked as a bartender at the music festival, through a support group on Facebook. They helped each other recover from the psychological trauma.
Olive told CNN that she suffered from a deep depression after surviving Vegas.
"You don't want to leave the house much…there's no desire to," said Olive, who later moved to California to start a new life.
The three of them, who have been supporting each other to deal with trauma, decided to go to the Gilroy Garlic Festival last weekend. It was the first time since the Las Vegas massacre Olive was able to really let her guard down to enjoy a public outdoor event.
Unfortunately, things went wrong again when 19-year-old Santino Legan launched a shooting spree into the crowd at the festival, killing three people including a six-year-old boy. Police officers shot and killed him before more could fall victim to his rampage.
"You think you're grateful for everything you have until something like this happens," said Christopher Cook, noting that he is re-experiencing the traumatic emotion of Vegas.
"I was able to be a bit more calm this time. Difference was, in Vegas you didn't know where it [gunfire] was coming from, but in Gilroy we knew that it [gunfire] was behind us."
"It's not happening again," said Olive repeatedly. She looked visibly exhausted and agitated in a Facebook Live video as she was being evacuated by a bus full of concertgoers. At one moment she seemed to be overwhelmed with by stress.
"We were at the Route 91 concert when the shooting happened," she cried. "I just hope nobody got hurt."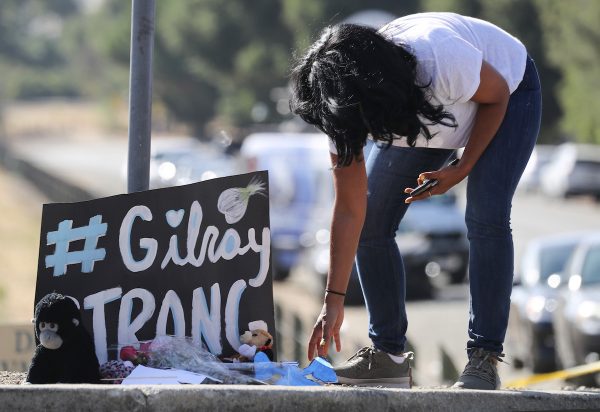 "We can't tell that to the families that lost someone. Say, 'oh well that's life, that's America,'" said Olive in an interview with Fox 40. "It's not enough. It's time to say enough is enough."
Christopher Cook agrees with his friend's call to action.
"It's a shame that we now live in a world where we must always have our guard up, and will never feel 100% safe in public places where people gather to enjoy time with friends and family," wrote Cook in a Facebook post.
"Will this ever end? Like Alicia says in this interview, 'enough is enough!'"