Thousands of Tibetan Students Protest in Qinghai
November 9, 2012 2:58 pm Last Updated: October 1, 2015 11:54 am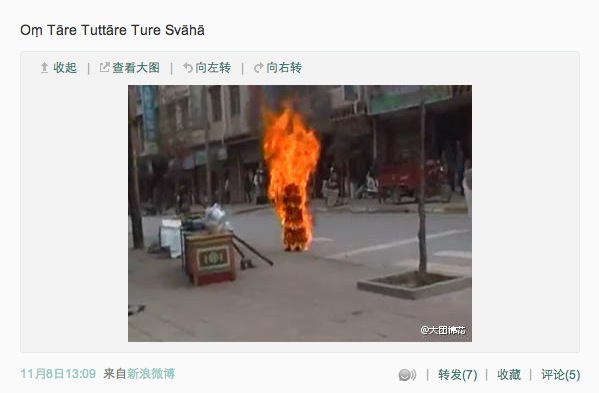 Following six self-immolations in two days, thousands of Tibetan students, including school children as young as 7, protested in restive Qinghai Province on Friday, calling on the ruling Chinese Communist Party to grant them equality and the return of the Dalai Lama.
As many as 5,000 students staged a protest near Rongwo monastery in Qinghai's Rebgong county, two advocacy groups confirmed.
The Tibetan Centre for Human Rights and Democracy, or TCHRD, published photos of the students taking part in demonstrations, the second straight day of protests in the region. 
Around 700 schoolchildren in Dowa township tore down the Chinese Communist Party's flags on top of their school building and at the government office on Thursday, the group said.
"Moments after the protest, seven military trucks came from Rebgong County, but local Tibetans and schoolchildren stopped the trucks from moving to Dowa township," said TCHRD. "Faced with a crowd of Tibetan protesters, the military trucks backed off, returning to Rebgong."
The advocacy group said that more Tibetans have joined in and the streets are filled with throngs of students, causing delays in traffic.
"There are no reports of official clampdown on the demonstration but People's Armed Police are stationed at various road checkpoints and at the government offices in the County," the TCHRD said.
The International Campaign to Save Tibet also reports that while the armed police have gathered around the students, they have stopped short of breaking up the protests. 
A Tibetan from the area told the group that "all schools and colleges in the area had joined the protest, including children aged between 7 and 11 from village schools and college students in their late teens."
In another part of Qinghai in Tongren county, more than 10,000 protesters took to the streets on Wednesday, a day before the Communist Party's 18th National Party Congress, chief editor of the Voice of Tibet Sang Jey Kep, told The Epoch Times. 
Over the past several months, the number of Tibetan self-immolations has dramatically increased and is approaching 70 incidents. On Wednesday, three young monks set themselves on fire in Sichuan Province and a young mother from Qinghai were among the latest to self-immolate.
The Epoch Times publishes in 35 countries and in 19 languages. Subscribe to our e-newsletter.
Click www.ept.ms/ccp-crisis to read about the most recent developments in the ongoing crisis within the Chinese communist regime. In this special topic, we provide readers with the necessary context to understand the situation. Get the RSS feed. Who are the Major Players?