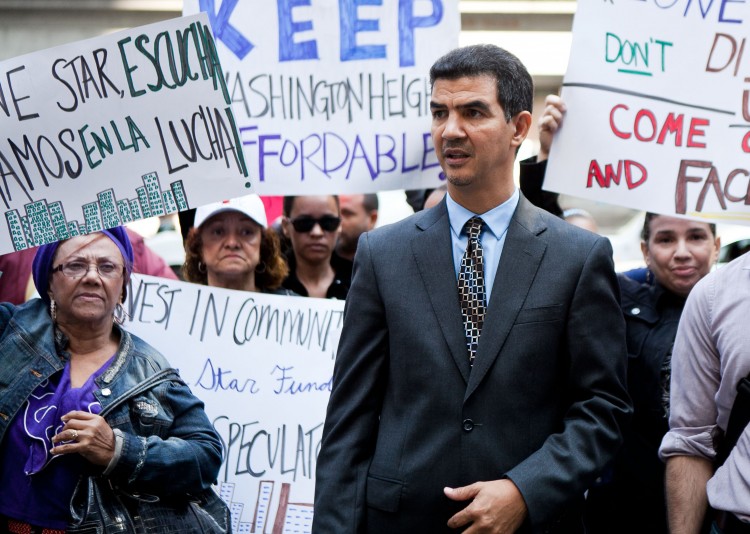 NEW YORK—For two years, there was no such thing as a weekend for council member Ydanis Rodriguez. To pay for his undergrad education at City College of New York, Rodriguez drove a taxi all night on Friday and Saturday evenings. On weekdays, he drove from 7 p.m. to 12 a.m. and went to class during the day.
The hours were deplorable, but the end justified the means—that is, until one fateful evening when Rodriguez picked up two inconspicuous passengers. He drove them to their destination. Shortly after the men went inside the building, a police car pulled up and told Rodriguez he was transporting dangerous men, and that he needed to leave the premises immediately.
"I called my brother-in-law right after and told him I was going to quit, I had had it," Rodriguez said, recalling the frightening moment.
Like any immigrant who didn't come from a wealthy family, Rodriguez had his fair share of disagreeable jobs before joining City Council in 2010. What got him there, however, was more than his intelligence and industrious work habits. It was the moral support he received as a child.
Rodriguez grew up with 13 siblings in Licey al Medio, in the Dominican Republic. He was the eighth child. His father, a farmer, worked from 5:30 a.m. to 7 p.m. without a single complaint.
"My father is my first hero," Rodriguez said. "Without any education, he provided what we needed—food, and support [by telling us] we can achieve anything that other human beings can."
Although his parents were unable to obtain higher education, they still heavily stressed the importance of school.
There were many times Rodriguez went hungry in his childhood, but he describes his youth as something "very close to what we believe Maria Montessori would like any children to do in school," he said.
Montessori (1870–1952), an education philosopher, believed that children learn best when they have a nurturing environment and the freedom to choose.
"There was freedom to explore and learn how to grow with the many challenges in our life," Rodriguez said. "We lacked financial support, but we were very rich when it came to moral value."
Growing up, he recalled his eldest sister getting into the best university in the Dominican Republic. His older sisters encouraged him to try his best in school, and take part in community activism and social justice movements.
Following his sisters' footsteps, at 18, Rodriguez arrived in Washington Heights, Manhattan, in 1978. He didn't know a drop of English.
Rodriguez started by washing dishes from 6 p.m. to 4 a.m. at a restaurant. He spent his first year and a half doing nothing but save for college and send money home.
"I was doing the jobs that any immigrant does when they first come," he said. "Because of all the moral support I had, I was able to adapt to the city with the many challenges that I had."
Starting a School
Rodriguez eventually received a Bachelor's degree in political science, and then a Master's degree in Bilingual Education at City College. After graduation, he felt compelled to start a new college geared towards providing better educational environments for immigrant children.
He helped found the Gregorio Luperon High School in Washington Heights and taught social studies there for 14 years.
The idea was inspired by a man named Luis Lunaa, a farmer in his neighborhood in the Dominican Republic.
Lunaa came from one of the larger farms and had more opportunities to pursue a higher education. After he did so, he felt a need to use his education to increase literacy in his community.
"There was no government funding, but that was no excuse," Rodriguez said. Using money from his own pocket, Lunaa started a school for local disadvantaged children. Rodriguez was one of the 15 children who attended. The school was in the countryside, and Rodriguez walked three miles every day to receive the first two years of his education.
"[Lunaa] not only taught academics, but also respect and helping others," Rodriguez said. It was a lesson he would remember for a lifetime.
This early childhood experience had a strong impact on what Rodriguez would do later in life—starting his own school to help underprivileged children.
Rodriguez believes that the most important thing teachers can do is to connect with their students.
As an educator, Rodriguez had two rules for his students: call him by his first name, and to not ask if they need to use the restroom.
"I was born with the name my mother gave me, and that is what I prefer to use to connect with human beings. My students never called me by title, they called me by name," he said.
Rodriguez always spent the first week of school, not lecturing, but discussing the history of the right to education. He and his students discussed how for centuries, only the elite in areas such as Europe, Latin America, and China, had access to higher education.
"The elite has been ruling the world, they denied education in order to control people. I expect from there on they understand that it is their responsibility to control their education," he said.
Rodriguez had a bittersweet teaching experience. He had students who understood, and those who did not. A former student of his is currently getting his Master's degree at Harvard University, while another student joined a gang and was killed.
Despite some setbacks, Rodriguez never looks down on his students.
"It's important to know that the students are capable of doing anything you believe that they can," he said. "When any of them fail, it is because we the adults failed with their life. So I never sent any students to the principal's office."
Accomplishments in Office
Although Rodriguez is currently fighting for many middle- and working-class causes, the one cause he holds most dear to heart is education.
The council member has been the chair of the Higher Education Committee since 2010. The committee recently convinced the state to allocate $71 million for education in FY2013.
"That, to me, is very important because the money will be used to expand classrooms, libraries, and other needs of different higher education facilities, especially our community colleges," he said.
Rodriguez also joined a community protest on Sept. 27, which questioned the ethics of Lone Star Funds, a private equity firm that is suspected of buying the loans of buildings in order to foreclose them and sell for a profit.
The protest took place in Rodriguez's neighborhoods, Washington Heights and Inwood. During the event, the building's security guards asked Rodriguez and the protesters to leave the private property, but Rodriguez rebuffed the request and explained to the protesters that they were not breaking any laws.
"The most important goal I have as a council member is to give our community a voice, to build trust between the community we represent and our offices," Rodriguez said.
The Epoch Times publishes in 35 countries and in 19 languages. Subscribe to our e-newsletter.