Commentary
In 2018, less than half of Americans had negative views on China; by 2021, more than two-thirds of Americans had negative views. Why such a jump?
Perhaps it has something to do with Chinese-backed criminals hacking into the computer networks of at least six state governments. Maybe it has something to do with the fact that the Chinese regime has stolen the personal data of at least 200 million Americans. Or the fact that the regime openly mocks the president of the United States. Maybe it's a combination of all three.
Whatever the reasons are—and there are many—Americans are worried about a rising communist China. With the midterms fast approaching, a handful of politicians on the left are openly acknowledging the threat. Their colleagues on the right, people like Sens. Marco Rubio (R-Fla.) and Tom Cotton (R-Ark.), have been sounding the alarm for years.
With the midterms fast approaching, some Democrats appear to be listening. But, one wonders, has their willingness to listen come a little too late?
In less than seven months, the midterm elections will give American voters the opportunity to reshape both the House of Representatives, the lower body of the U.S. Congress, and the Senate, the upper body. Coming in the middle of Joe Biden's four-year tenure (hence the term), the midterm elections allow voters to express their thoughts on the president's performance.
That's not good news for Biden, who is struggling to put out several personal and geopolitical fires. A majority of voters—at least 56 percent—say Biden's presidency has been an abject failure. Moreover, 36 percent of Americans believe Biden is weak on China, the United States' number one competitor.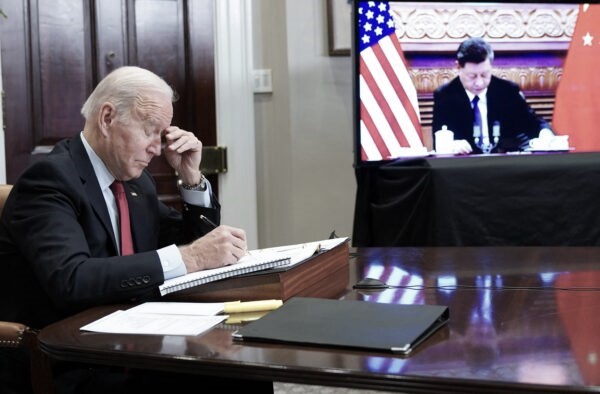 However, there is a tiny glimmer of hope for those on the left. As The Hill's Julia Manchester recently noted, a couple of Democrats running for Senate in Midwestern states are actively "embracing a tough-on-China approach to trade," a platform that Donald Trump initially embraced during his 2016 presidential campaign.
In her article, Manchester focused on the Ohioan Tim Ryan. According to his website, Ryan is "running for the U.S. Senate to put Ohio's working families first." That means putting China second.
As Manchester highlighted, Ryan, to his credit, has regularly bemoaned the many ways in which China is "out-manufacturing" the United States "left and right." Ryan has repeatedly warned that "America can never be dependent on communist China." Sadly, it is.
Meanwhile, 500 miles away, in Wisconsin, Democratic Senate candidate Mandela Barnes has a message for the state's small business owners and farmers. If victorious, he has promised to "level the playing field" for Wisconsinites. What exactly does this mean?
As the Milwaukee Journal Sentinel first reported, Barnes has vowed to "fight to pass" the "Made in America Act," which was initially proposed by Sen. Tammy Baldwin (D-Wis.). The act, if passed, would require "the use of American goods and services in federal contracts."
In his plan, Barnes wrote, "Whatever China can do, we can do better." For decades, he argues, "Wisconsin businesses and workers have faced a torrent of challenges, from bad trade deals to the rising anti-competitive practices of major corporations to the economic extortion carried out by the Chinese government, all of which have made it harder for small businesses to compete and thrive."
Of course, Mandela is right.
The elites in Washington, according to Barnes, "have sold out small businesses and American workers in order to write bad trade deals designed to help a few huge multinational corporations."
Now, Barnes wants to flip the script. Will his tough stance toward China and the Chinese Communist Party (CCP) pay off? In truth, only time will tell.
However, even if it does, Barnes' anti-CCP sentiments are not shared by most of his political colleagues on the left, at least not openly. Barnes and the aforementioned Ryan are making headlines because their views are not ones that we associate with the left. This is just one of the many reasons the midterms could prove to be a punishing affair for the Democrats.
As Andrew Prokop, a writer at Vox, a hyper-liberal website, recently wrote, Biden's "approval rating is the second-lowest of any president's at this point in their presidency since modern polling came into use." Inflation, he warned, "is at a 40-year high and eating into voters' spending power."
The country, "still in the midst of the pandemic," is struggling. So is Biden. He is failing to unify "the country around his leadership."
When authors are dishing out such a dour analysis at Vox, the Democrats must know they are in real trouble. Unless the left somehow finds a way to redeem itself between now and Nov. 8, which looks increasingly unlikely, the midterms look set to be a painful affair for Biden and his colleagues.
As Prokop warns, voters regularly use the midterms for one reason only: "to punish the president," especially if he happens to be performing poorly. One imagines Biden is bracing himself for the most punishing of assessments.
Views expressed in this article are the opinions of the author and do not necessarily reflect the views of The Epoch Times.