Developer of "The One" mega-mansion, the nation's most expensive mansion worth an estimated $500 million, filed for bankruptcy protection Oct. 26, a day before the mansion was set to foreclose.
After the project developer, Nile Niami—who owns Crestllyod—defaulted on more than $100 million of debt, the lenders of the project, including the largest lender the Hankey Capital, sought help through the court of Los Angeles, claiming they were not being paid.
In March, Niami served a notice of default and was granted 90 days to pay off or negotiate the debt. However, no payment was made before the July deadline and the property was eventually placed into receivership.
Theodore Lanes, from the Lanes Management Services, received of the property and was appointed for settling its debts.
Lanes told CNN that there is a "pretty extensive list" of things that need to be fixed.
"This is a very complicated property with quite a few open issues. … At present, the focus is to obtain complete insurance and develop a timeline and budget to secure the certificate of occupancy in order to maximize value and to make the property more marketable," Lanes said.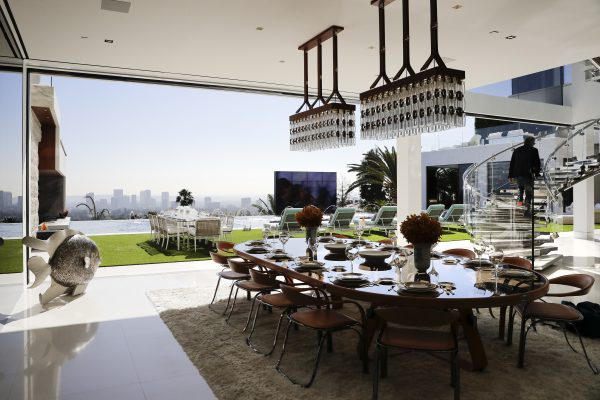 Lanes planned to list the property for $225 million due to the huge amount of secured debt attached to the property.
Don Hankey, of Hankey Capital, told Bloomberg, "I'm disappointed … all we want is to get our capital returned."
As the largest lender, Hankey loaned more than $82.5 million for the development of the project. He originally set the foreclosure sale for Wednesday.
However, Chapter 11 Bankruptcy Protection halted the foreclosing of the property.
A case filed under Chapter 11 of the U.S. Bankruptcy Code is frequently used by debtors to negotiate a plan outside the court and reach a settlement with the creditors, according to Cornell Law School.
"The One" mansion is a 105,000 square foot mansion located in Bel Air, Los Angeles. The building was put on the market in 2020.
The property has 21 bedrooms, 42 bathrooms, and a garage that can house 30 cars. It is made up of four separate structures and is surrounded on three sides by a moat. The entire property took eight years to build.