The Farce of the "People's Republic"
December 13, 2005 12:00 am Last Updated: December 13, 2005 12:00 am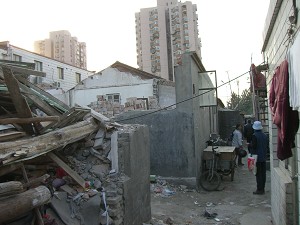 Hundreds of policemen besieged an "appeals village" near Beijing's South Railway Station late at night on December 9. According to ndn.com, the police forced thousands of petitioners to leave and then demolished the buildings with heavy equipment. The evicted petitioners had no place to stay and were driven outside into temperatures of minus 9 C (16 F).
One petitioner named Ming said that it only cost him three yuan (US $0.37) per night to stay in the appeals village, while the cheapest hotel charged 20 yuan ($2.47). So he could not afford to stay in a hotel outside the village. Many other petitioners had the same problem and could therefore freeze to death in the street.
There is a large contingent of veteran petitioners who have traveled to Beijing many times but have still not had their cases heard. While they wait, they make a living doing temporary labor or seeking charity. One petitioner has been appealing for 42 years.
Mr. Chen, a veteran petitioner, was also driven from the village. "Beijing authorities have always wanted to close down the appeals village and force the petitioners to return home," he said, strapping his belongings to his back. But they will not succeed. Every family in the appeals village has its own grievance or injustice to appeal for and they would never go back home until their problems are resolved."
The appeals village consisted of single-story buildings located near Beijing's Yongding Gate. These dilapidated buildings were mostly rented by petitioners, with as many as 3000 people living in the village at any one time waiting for their appeals to be heard.
Please also see New Policy "Criminalizes" Appellants; Massive Arrests Result