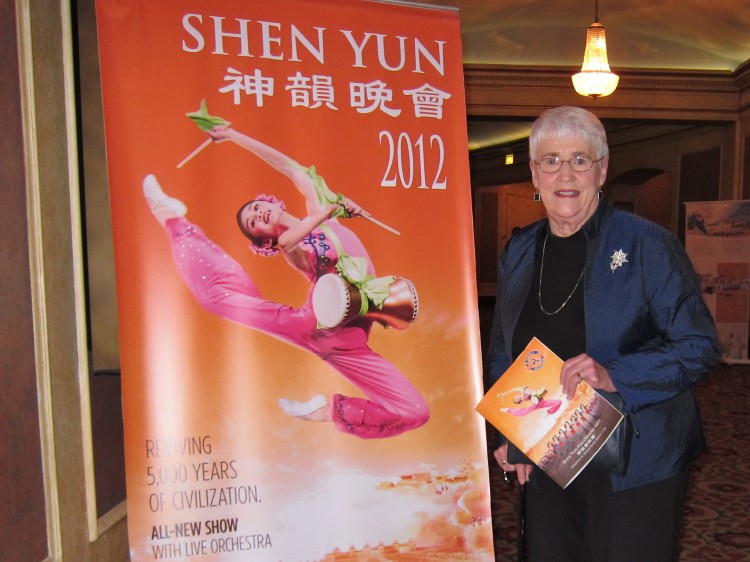 MINNEAPOLIS—"The dancing is just unbelievable," said Joanne Negstad, retired CEO Lutheran Social Service System, about Shen Yun Performing Arts Touring Company's matinee performance at the historical Orpheum Theatre on March 11.
"It is beautiful, the art, and it is nice to hear and to see. The senses are all involved in the show, Ms. Negstad said. "I appreciated the stories and the introductions by the emcee's, but the dancing is just unbelievable."
Ms. Negstad decided to come to the performance by watching the website video. "I went to the website and I got hooked on this show by watching the video: it was just fantastic. I just decided this was going to be a splurge, but I wanted to come just to see it."
New York-based Shen Yun Performing Arts' mission is to revitalize 5,000 years of divinely inspired traditional Chinese history through storytelling by classical Chinese dance, colorful costumes, original orchestra music, award winning vocal soloists, and state-of-the art backdrops. Each performance is introduced by a host and hostess in both English and Chinese for entertainment and educational purposes.
Shen Yun gave her a better understanding of Chinese dance and traditional history, she enjoyed seeing the flips and turns that are an ancient part of classical Chinese dance.  "I thought it was just the opposite. I learned a lot about Chinese history."
Ms. Negstad was fascinated by the traditional Chinese culture. "The 5,000 years of civilization just fascinated me, and the history is really woven throughout the whole [performance]. I enjoyed it a lot."
She stated she would "definitely" recommend the Shen Yun performance to others. "So, come back to Minneapolis again," she exclaimed.
Reporting by Valerie Avore and Cat Rooney.
New York-based Shen Yun Performing Arts has three touring companies that perform simultaneously around the world. Shen Yun Performing Arts Touring Company will perform two shows in Toledo, Ohio, March 17-18.
For more information, please visit ShenYunPerformingArts.org.