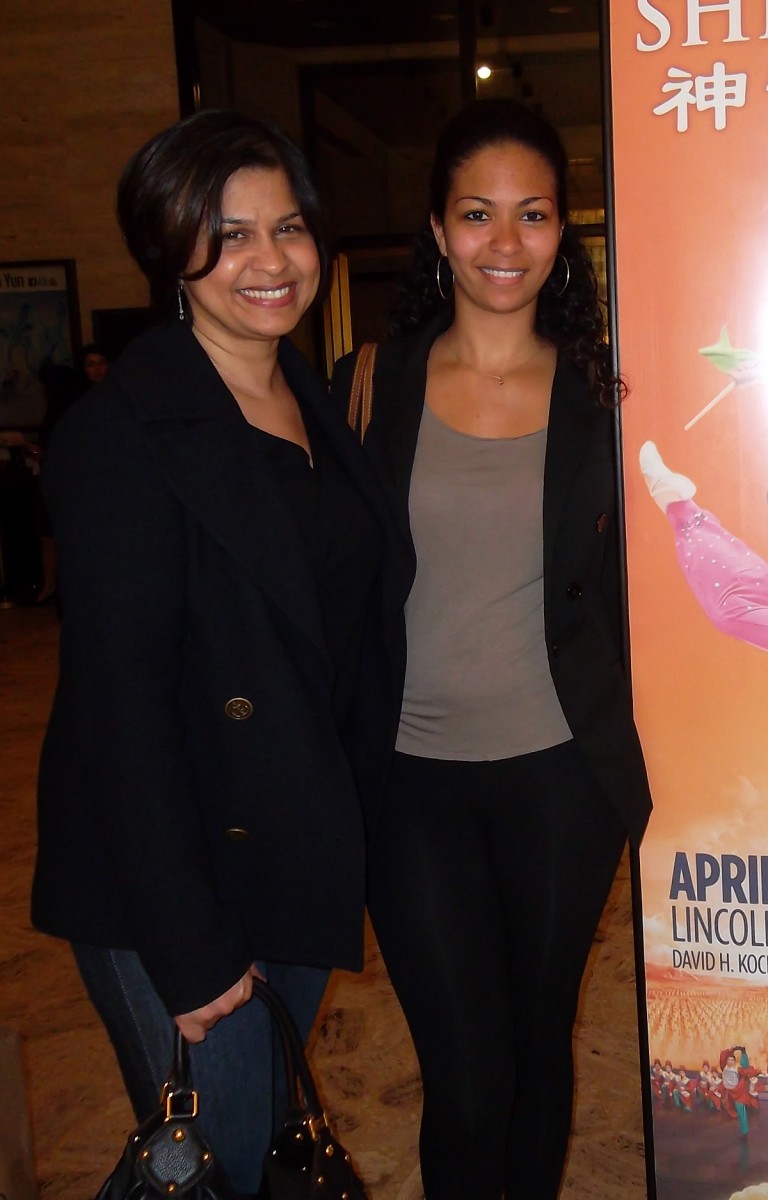 NEW YORK—Shen Yun Performing Arts graced the stage at Lincoln Center's David H. Koch Theater on Saturday evening, April 21, enchanting the audience with its vast repertoire of artistic mediums.
"It was a really great show. I really enjoyed the variety of the performance—the colors, the costumes, the spirituality, was beautiful," said Jennifer McDonald, a classical singer and composer. "It makes you feel very touched inside, the whole show."
Shen Yun's award-winning vocalists, use "the highly difficult technical requirements of bel canto operatic singing while retaining the proper Chinese articulation and diction," according to the company's website, which is unparalleled today.
Being a classical singer, Ms. McDonald said she "really appreciated the technique and the beauty of the voices." She added that she loved the first singer, Pi-ju Huang, who has, according to Shen Yun's program, performed leading roles in operas such as La Traviata, Madame Butterfly, and Don Giovanni.
The lyrics sung by Shen Yun's vocalists are all original compositions. "Brimming with philosophical reflection about human life and deep layers of meaning, they traverse the boundaries of nation, race, and culture and have been fondly received and appreciated the world over," expounds the website.
"It was great because the words were behind, so that you were already tingling from the voices and then you were seeing the words, and it was very, very, very profound," said Ms. McDonald. "Beautiful!"
Shen Yun's performance is centered around classical Chinese dance, with the dancers adorned with colorful, handmade costumes and accompanied by vocalists, a unique orchestra joining Western and Chinese classical instruments, and digital backdrops, according to the company's website.
Yet "digging deeper, one discovers a sea of traditional Chinese culture. Mortals and divine beings merge on stage as one. Principles such as benevolence and justice, propriety and wisdom, respect for the heavens, and divine retribution, all come to life, washing over the audience. Originating from Confucianism, Buddhism, and Taoism, these ideals are the essence of traditional Chinese culture."
Ms. McDonald connected with the inherent spirituality and traditional culture seen in Shen Yun.
"I'm more of a metaphysical kind of an individual, so I kind of lean more towards that philosophy in thinking and incorporating that kind of ideal in my life, so it's pretty lovely," she said. "Very lovely."
After communist rule in China "all but demolished" the 5,000-year-old culture, explains its website, Shen Yun formed to tour the world and revive it.
The dance Snowflakes Welcoming Spring, which depicts the symbolic birth of spring after a harsh winter, contributed to the whimsical nature of the show, said Ms. McDonald.
Ms. McDonald's daughter Natalie, a sustainable development major at Columbia University, accompanied her to the performance.
"It was really great," she said, "I was floored."
Natalie has been learning Chinese and enjoyed seeing classical Chinese dance, which she has never seen before. She especially enjoyed the dance Joyful Little Monks, which shows apprentice monks gathering in a secluded monastery to clean—"Eager to do well, they put their hearts into their work," says Shen Yun's program, "with fun and humorous results."
"It was more than just a dance, it was also acting," she said, "so you got the whole experience; it was really funny."
Ms. McDonald said the evening was very positive. "It's very whimsical and makes you happy," she said. "I really enjoyed it."
Reporting by Alec Wang and Zachary Stieber.
Shen Yun Performing Arts, based in New York, has three touring companies that perform simultaneously around the world, with a mission to revive traditional Chinese culture. Shen Yun Performing Arts Touring Company will perform at the David H. Koch Theater at Lincoln Center through April 22.
For more information, visit ShenYunPerformingArts.org.