The Bachelorette 2014 Spoilers: Andi Dorfman's Four Front Men
April 17, 2014 2:45 pm Last Updated: April 17, 2014 2:45 pm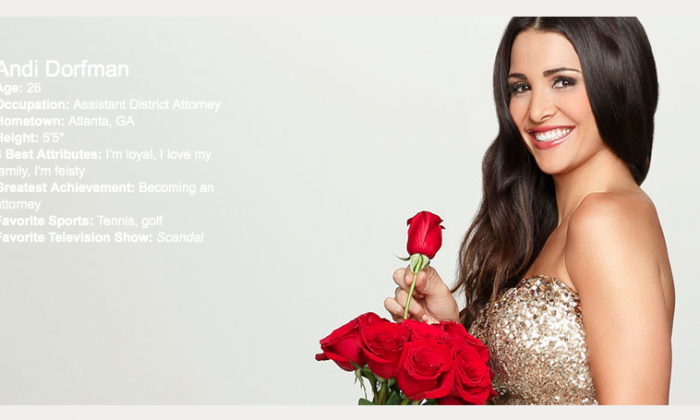 Winner of The Bachelor to star in the 2014 season of The Bachelorette, Andi Dorfman is the next in line for the show's upcoming season. Andi Dorfman, 26, is an assistant District Attorney from Atlanta, GA. She likes to play tennis and golf and her favorite show is "Scandal," according to ABC. 
The Bachelorette season premiere will air on May 19, 2014 at 9 p.m on the ABC Television Network.
Dorfman told E!Online that she's ready to find her one true love. "I have a great life. I just don't have anyone to spend it with," she said. 
She continued, "I feel all in. I feel mentally all in, emotionally all in, physically all in. I am in a place in my life where I'm just so ready for this. I hate say it because I don't want to jinx myself…but I am ready. I've never felt better in my life about this and I'm just excited." 
In the upcoming season, her four front men are likely to be Josh Murray, Chris Soules, Nick Viall, and Marcus Grodd, according to an exclusive from a reality TV website realitysteve.com. The website also states that it was expected for Murray to get far in the show, singling him out as a possible winning contender.
On April 17, 2014, the website also published purported photos from Dorfman's hometown date with Nick Viall at Lakefront Brewery in Milwaukee. 
The following are the four contestant's social media profiles:
Josh Murray: Twitter – @jmurbulldog; Instagram – Joshmurray11 
Marcus Grodd: Twitter – @m_grodd (currently de-activated); Instagram – m_grodd (currently de-activated)
Nick Viall: Twitter – @viallnicholas28
Chris Soules: LinkedIn