BRACKETTVILLE, Texas—Galveston Constable Jimmy Fullen reported for duty 370 miles from home, at the Kinney County Sheriff's Office, on Aug. 16.
For the next two weeks, Fullen will help beef up the law enforcement presence in the small border county.
"Not sure what to expect. But I'm sure we're going to get our feet wet pretty quick," Fullen told The Epoch Times.
Kinney County has been struggling to keep up with the number of illegal aliens passing through, especially those walking through the ranches and cutting fences, destroying property, and stealing vehicles.
The county sits in Texas's Del Rio Border Patrol Sector, which has become the second-busiest along the border for illegal crossings.
In July, Border Patrol detected but failed to apprehend almost 10,000 illegal aliens, according to Customs and Border Protection statistics released by Rep. Chip Roy (R-Texas).
The county has started prosecuting illegal aliens for criminal trespass and, with the Texas state troopers' help, has booked more than 120 into jail in the past week. Kinney County has 14 jail spaces, so it's utilizing state facilities in neighboring Val Verde and the Briscoe Unit in Dilley, Texas, which has been repurposed to detain nearly 1,000 illegal aliens.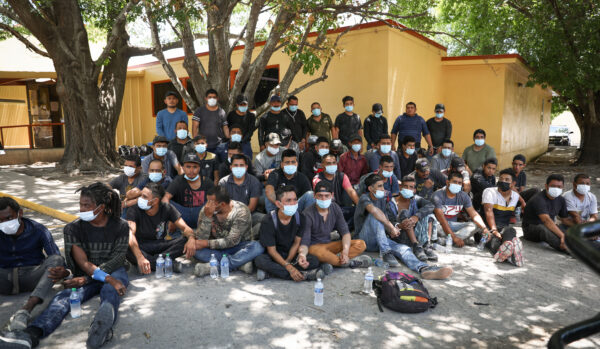 Fullen said his county declared an emergency last week, and he's been able to access federal funds to backstop his position in Galveston by calling up his reserves.
"The federal government gave Galveston County $63 million for COVID relief and COVID abatement," Fullen said.
"So we figured, in our minds, this is COVID abatement—trying to keep the illegal [aliens] from coming over. You know, eventually they're going to move up to our area."
Border cities have struggled with the influx of illegal immigrants and the potential increase in COVID-19 they're bringing in.
The mayor of McAllen, Texas, Javier Villalobos, said 15 percent of the 1,800 illegal immigrants apprehended per day have COVID-19.
On July 20, the city of Laredo sued the Biden administration over the "flood" of illegal immigrants being bussed in from other areas. The lawsuit was dismissed on Aug. 9 after the parties reached an agreement.
City officials last week said 40 percent of illegal aliens being released had tested positive for COVID-19, Laredo Mayor Pete Saenz told the Washington Examiner.
Kinney County Sheriff Brad Coe is gratefully accepting any help he can get. His stable of six full-time deputies is often depleted, and they've got 1,360 square miles of mostly rural ranchland to cover.
Aside from Fullen, Galveston County Sheriff Henry Trochesset is sending four deputies to start work in Kinney County on Aug. 19.
"We've gotten so much assistance. Every time there's a storm or hurricane, everybody comes to help us, so at this point, we just feel like we're returning some of the favor," Trochesset told The Epoch Times on Aug. 9. The deputies will operate under a mutual aid agreement, and although it's not technically required, Coe intends to swear them in.
Department of Homeland Security Secretary Alejandro Mayorkas traveled to the border on Aug. 12 and told Border Patrol agents the current border crisis is "unsustainable" and "we're going to lose" if "borders are the first line of defense," according to a leaked audio file obtained by Fox News.
On Aug. 10, Rep. Andy Biggs (R-Ariz.) filed articles of impeachment against Mayorkas.
"Secretary Mayorkas is a threat to the sovereignty and security of our nation," Biggs wrote in a statement.
"He is willfully refusing to maintain operational control of the border and is encouraging aliens to enter our country illegally."