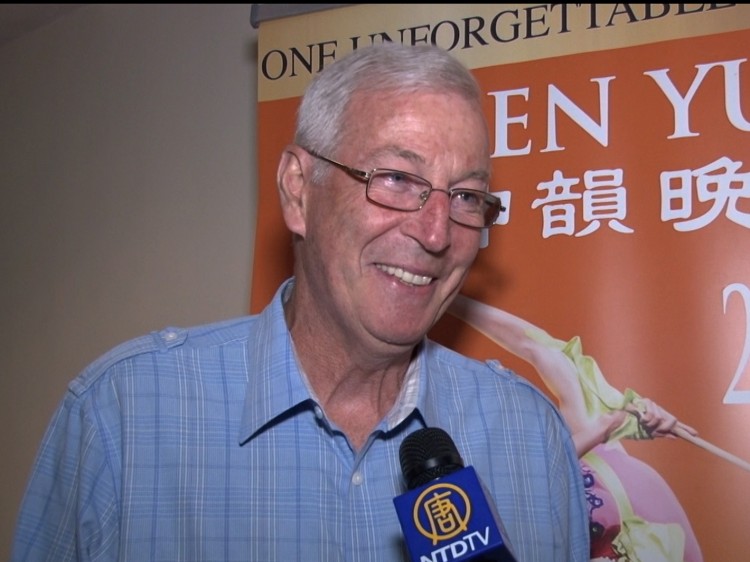 ST. PETERSBURG, Fla.—Shen Yun Performing Arts International Company put on a dazzling display of ancient China's cultural heritage at the Mahaffey Theater in St. Petersburg on May 5, leaving behind a sense of awe.
Trial lawyer for American Border Trial Advocates, Michael Callahan, had wanted to see Shen Yun, the world's premier classical Chinese dance and music company, for five years, but had always been too busy.
"I have been meaning to see this performance for five years. I came tonight, I was too busy to catch it [previously]. I was well aware of it … I just haven't had an opportunity. Terrific show, we love it," he said at intermission.
Shen Yun was created in New York in 2006 by a group of top artists with a passion to revive China's divinely-bestowed heritage, almost destroyed after more than 60 years of communist rule, the company website says.
Legends from Chinese folklore, together with themes of modern-day China, are dramatized through classical Chinese dance, vocalists, solo musicians and a full orchestra that plays a blend of classical Chinese and Western instrument in all-original composition.
Mr. Callahan was particularly impressed by the Taiwanese folk dance,Taiwanese Amei Dance. "Really cute, and well, formal Chinese dance is so expressive you don't even need the language, because the dance itself tells the whole story. So wonderful, we're enjoying it very much and looking forward to the second half," he said.
The people of China have long held that their magnificent culture was a gift from the heavens, the company website says. Art was primarily a means to explore the connection between humankind and the higher universe, something that Mr. Callahan sensed.
"Very spiritual, very good, very interesting … this shows such depth and such cultural history. I am enjoying it very much."
Reporting by NTD Television and Raiatea Tahana-Reese.
Shen Yun Performing Arts, based in New York, has three touring companies that perform simultaneously around the world, with a mission to revive traditional Chinese culture. The season concludes this month with performances in Philadelphia, Honolulu, San Antonio, and Buffalo.
For more information, visit ShenYunPerformingArts.org.
The Epoch Times publishes in 35 countries and in 19 languages. Subscribe to our e-newsletter.