A Tennessee officer has been hailed for saving a young man's life by catching him as he leaped off a bridge, preventing the would-be jumper from plummeting to the ground below.
Video captured the hair-raising moment officer Brian Rehg lunged toward the man as he dove over the bridge railing, grabbing him at the last moment and saving his life.
The incident took place on April 8, 2019, but the footage was released on Monday, Sept. 16, by the Knox County Sheriff's Office.
The footage shows Rehg talk into his walkie-talkie a split second before the young man dashes toward the edge of the bridge. Rehg reacts instantly and rushes to restrain the man as he goes over the railing.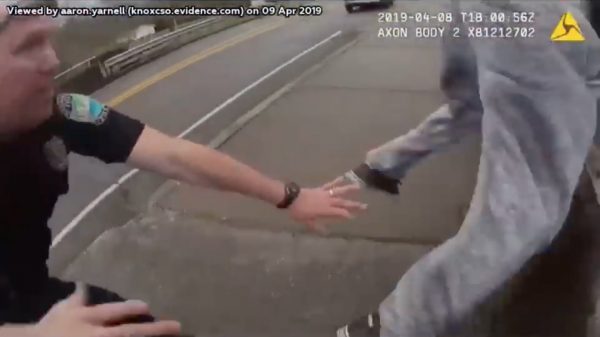 Rehg is then seen grabbing onto the man's clothing and, along with Lt. Chris McCarter, holding onto the young man as he dangles upside down off the bridge.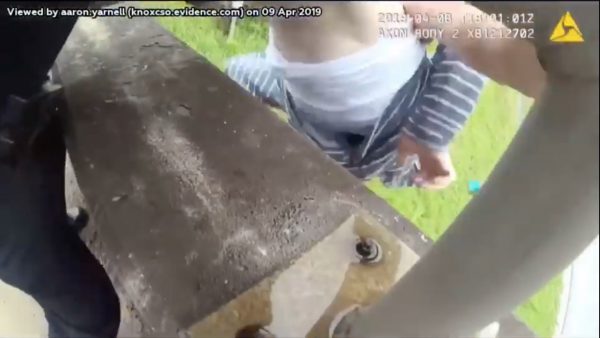 "Because of their vigilance and quick actions the young man is alive today," the Knox County Sheriff's Office wrote in the caption to the dramatic video.
"Both Lt. McCarter and Officer Rehg are true local heroes, not just because of this one incident but because they continue to risk their lives daily for the safety of others."
"Thank you gentlemen for your continued hard work and dedication to Knoxville and Knox County!" Sheriff Tom Spangler said in the caption.
The post sparked numerous comments.
"My heart almost stopped. Such quick action by this officer saved this young man's life. The officer very well could have been pulled over himself. You are a hero. Thank you for your service and prayers for you to always be safe," one commenter wrote.
"Great job! I hope this young man has been able to get the help needed because he does matter," another person wrote.
"Good job, saved a life that day. Thank you both for your dedication to your jobs and saving lives. That matters," someone else wrote.
Suicide Prevention
According to the American Foundation for Suicide Prevention, suicide is the 10th leading cause of death in the United States.
If you or someone you know is showing signs that they might be considering suicide, the National Suicide Prevention Lifeline is available at 800-273-TALK or go to suicidepreventionlifeline.org. Texts can also be sent to The Crisis Text Line at 741741.
The best way to help a loved one who seems at risk of suicide is to help them seek out professional help.
According to the American Psychiatric Association, there are many psychiatric symptoms indicating a risk of suicide. These include: self-harming behavior, anti-social attitudes, violent mood swings, impulsive actions, and reckless decision-making.
The Association advises people who spot any of these warning signs in the behavior of friends or family to reach out without judgment and encourage them to seek counseling or other professional services.