Tales From the Dog Run
September 10, 2013 2:23 pm Last Updated: April 24, 2016 6:41 am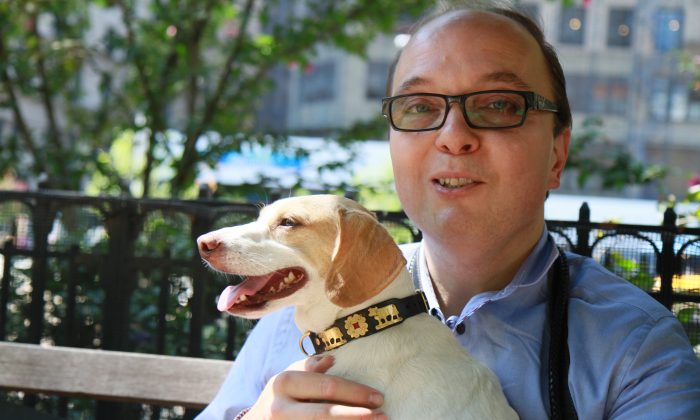 NEW YORK—Lawrence Latvalia's two dogs could well be royal hounds the way they strolled into the dog run.
Spotted at Madison Square Park on a recent Tuesday afternoon they were clad in matching leather collars with metal inlays, neatly groomed, and well-behaved.
Latvalia, a Flatiron District local, is a corporate consultant. He schedules his days around the three walks he takes with Joshua, 5, a Jack Russell and beagle mix; and Shiloh, 2, a beagle.
Latvalia adopted Joshua when he was a three-month-old puppy at a dog rescue event in Washington, D.C. Latvalia, who had not had a dog in years, was overcome by his cuteness. The puppy was nervous in the first few days, but then became comfortable after a couple of weeks.
"He is somewhat shrewd. He knows how to get his way. He exercises discretion in what he wants, in what he pays attention to, and what he doesn't pay attention to," said Latvalia. "He likes to pose sometimes. He definitely likes the sun."
And, as if on cue, there he was—posing in the sun on the bench, as though in a spotlight in sunshine beaming through the wide branches of the old trees above. At home he's just the same, scrambling onto high ground and posing, as if for an oil painting of those hunting hounds in the wilderness. Lacking green hills and meadows at the apartment, Joshua settles for pillows, the sofa, or chairs.
"I think they have a lot of positive energy. I think they are great watchdogs. They're good to keep you moving and exercising," Latvalia said.
At home, Joshua chucks his treats around and chases them. For two years now, his favorite toy has been a blue rubber ball with a squeaker. His favorite place to sleep is on the bed, especially under covers. Outdoors Joshua is more reserved, interacting with other dogs only at the dog park, mostly on a one-on-one basis. Joshua barks at the door when someone passes nearby or at other dogs when they fight, "suggesting that they take it easy," Latvalia said.
What did Latvalia learn from taking care of the regal duo?
"Patience," he said.
"They have happier moments and quieter moments. You have to understand that their moods change and they may not react instantly to what you want them to do."