Taiwanese General Accused of Spying For the CCP
February 9, 2011 5:37 pm Last Updated: October 1, 2015 5:43 pm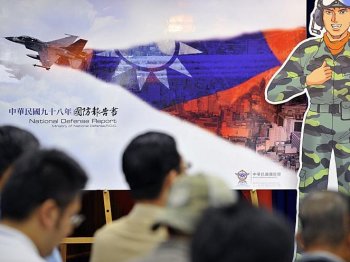 Taiwanese General Lo Hsien-che has been accused of spying for the Chinese Communist Party (CCP). He is the highest-ranked Taiwanese military official in history to be involved in a spy case.
In the morning of Feb. 9, the acting director of General Political Warfare Bureau in the Taiwanese Ministry of Defense, Wang Ming-wo, said that the suspected spy, army general Lo Hsien-che, was believed to have been contacted by CCP agents while stationed in Thailand in 2004.
The leaked secrets will likely affect Taiwanese military capabilities and impact Taiwan's cooperation with the U.S military.
According to the Taiwanese Central News Agency, Wang said that Lo Hsien-che was stationed outside the country from 2002 to 2005 and was made a CCP asset in 2004.
A spokesman for the Taiwan representative office in Thailand has today confirmed that Lo was the head of "Coordination Group with the Thailand Military" from 2002 to 2005. He expressed that all diplomatic staff were professionally trained before the assignment. Lo's case was due to "his personal loyalty at fault."
Lo is the highest-ranked Taiwanese military official to be involved in a spy case since the 1960s. Wang pointed out that Lo was promoted to the rank of Major General on Jan. 1, 2008.
The Ministry of Defense and National Safety Agencies found evidence of spying in late Oct. 2010; after an investigation by the Prosecutor's Office of the military High Court, he was arrested in late January 2011.
Wang said that not only did Lo Hsien-che betray his country, sell his soul, trample the honor of the military, but also that he's a "disgrace to servicemen."
After the Bureau of Investigation searched the office and home of Lo Hsien-che, they found Taiwan military tactical communications and battlefield image map data management systems, and army underground fiber-optic network distribution maps, including "Broad Victory," (a US$1 billion defense system that Taiwan is purchasing from U.S. defense contractor Lockheed Martin), along with other confidential files that come from the U.S. military.
The Taiwanese Ministry of Defense does not want to say whether the leaked information included the "Broad Victory" and other information.
Wang said the damage done by the spying is still under assessment. Duowei News says that since Lo held intelligence posts for years, the losses brought by his leaks are incalculable. It is expected that the revelations will have ramifications on the U.S. selling high-tech weaponry to Taiwan in the future.
The release of this news on Feb. 9 led to harsh criticism from Taiwanese legislators. The Democratic Progressive Party Legislator Tsai Huang-lang said CCP spy cases happens repeatedly, and it shows that the mainland has deeply infiltrated Taiwan; Lo Hsien-che may just be the tip of the iceberg, Tsai said.
Read the original Chinese article

Comments: [email protected]