Typhoon Jangmi Hits Taiwan; 'Typhoon Day' Called
September 28, 2008 12:37 pm Last Updated: October 1, 2015 10:47 pm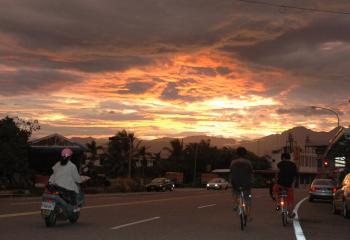 TAIPEI—Deserted streets, broken umbrellas lying on the ground, scooters knocked over, pot plants upturned, leaves and branches strewn on roads and footpaths. This is a common scene across Taipei in recent days as "super" Typhoon Jangmi sweeps over the island.
The situation is serious enough for the Taiwanese government to call a "typhoon day" on Monday, resulting in school being cancelled and businesses shutting down. On Sunday night, even the 24-hour MacDonalds restaurants sprinkled across the city had shut their doors.
Local media ran stories on Sunday about President Ma Ying-jeou's teleconference with the Central Emergency Operation Centre, the agency overseeing disaster prevention efforts.
News releases carried by the National Fire Agency indicated Ma's concern that preparation efforts go according to plan, listing a range of measures taken to prepare for Jangmi.
The Ministry of Economics was to emphasize advance mobilization of pumping machinery in flood damaged areas, to begin pumping immediately when the typhoon strikes. Dams were to be carefully monitored to provide rapid evacuation alerts to downstream areas.
The Ministry of Defense was to ready emergency machinery and supplies in all potential damage areas, and cooperate with "full endeavour" in requests for assistance.
Major airlines, including Cathay Pacific Airways Ltd., Hong Kong's largest, and Taiwan's China Airlines, canceled or rescheduled about 90 flights from Taipei on Sunday, according to Taiwan's largest airport, the Taoyuan International.
Mainland Chinese media also reported that hundreds of thousands in coastal provinces have been relocated in preparation for Jangmi, and 76,000 boats recalled. Officials in Fujian also issues mudslide warnings, and suspended navigation across the Taiwan Strait.
The Central Weather Bureau regularly updates forecasts and animated graphics of the typhoon on its website. As of 8:30pm on Sunday evening, Jangmi's radius was near Sioulin township in Hualien County, around 80km south of Taipei. It was moving south at 7km per hour, with highest sustained wind speeds of 162km per hour.
The Central News Agency reported Wu Teh-jung, director of the CWB's weather forecast centre, saying the combined effect of a northeast monsoon and the typhoon is likely to cause very heavy rainfall in Taiwan over the next few days.
Wu of the weather bureau also told those in mountainous areas to be extra careful, as torrential rain—reaching up to 1,200 mm in the northeast—could well cause mudslides in areas already vulnerable due to several previous recent typhoons.
The government also advised residents to avoid going outdoors during Jangmi's onslaught, the strongest storm to hit Taiwan so far in 2008.