Dozens of airstrikes and shelling hit parts of the last swathe of Syrian territory still held by rebels, raising questions of a possible full-scale government offensive.
Opposition members, local activists, rescue workers, and a war monitoring group corroborated reports that forces loyal to Syrian president Bashar Al-Assad carried out heavy bombardment on opposition-held areas in Hama, Idlib, and Aleppo provinces on Aug. 10.
The UK-based Syrian Observatory for Human Rights said dozens of strikes from helicopters and warplanes killed at least 29 people.
The three areas in northwest Syria are the last major ones still in the hands of fighters seeking to overthrow al-Assad, whose forces recaptured the area around Damascus and the southwest earlier this year.
Syrian state news agency SANA reported that the Syrian army carried out operations against "terrorist groups," its term for the rebels, in the northern Hama countryside, destroying several of their headquarters and killing and wounding an unspecified number.
This footage, shared by a local activist Abdalqader Bakri and made available via Storyful, shows the moment of strikes on the town of Al-Tamana, in Idlib province.
The death toll is expected to rise, the Syrian Observatory for Human Rights reported, saying that many remain in critical condition.
The Observatory described the attacks as "the most violent escalation in months in terms of aerial bombardment," and noted "massive military reinforcements by the regime forces" in the area.
It said the strikes could be seen as "preparation for an offensive."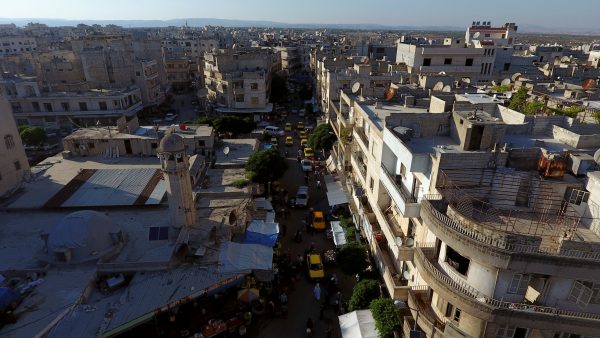 "Psychological Media War"
Abu al-Baraa al-Hamawi, a rebel leader in northern Hama, said the attacks appeared to be part of a "psychological media war against the people."
On Thursday the Syrian army had dropped leaflets over Idlib province, urging people to agree to a return of state rule and telling them the seven-year war was nearing its end.
Rebels were "ready to repel any possible attack by regime forces. They will be taught a lesson they won't forget: Idlib is different to other regions," al-Hamawi added.
Mohammed Rasheed, a spokesman for the Jaish al-Nasr rebel group based in Hama province, said pro-Syrian government forces had not yet advanced on the ground and the attacks consisted of shelling and air bombardment.
Next Target?
"We are entering a new chapter in this very long, very bloody, very cruel, very bitter war in Syria," said Senior Adviser to the UN Special Envoy for Syria, Jan Egeland.
Egeland described a "tremendous worry" the conflict would move to Idlib province and other non-government-controlled areas in Syria's northwest.
He said "the war cannot be allowed to go to Idlib," because "it's a place filled to the brim with refugees and internally displaced people."
"Idlib and other areas, including Afrin and Azaz, are home to some 4 million people, including 3 million women and children," Egeland said.
Hundreds of thousands of Assad opponents have relocated to northwest Syria under evacuation agreements reached as other parts of the country fell to pro-government forces backed by Russia and Iran.
Assad has indicated the area, which borders Turkey, could be his next target.
The Idlib "Kill Box" Conundrum
Many fear the Syrian regime has set up Idlib as an area into which foes are being funneled for a final decisive defeat, with Arab officials warning of the potential for Idlib to become a "kill box."
Free Syrian Army-aligned rebel commanders concur. They have been making the "kill box" argument since Russian-backed regime forces last December drove insurgents from Aleppo.
Western military tacticians have suggested that concentrating the enemies of the Syrian government into a single kill-zone was the strategy of Russian and Iranian commanders, who have been providing crucial support to the regime's war machine.
The conundrum is that Idlib is at once the last vestige of refuge for millions, and a region firmly controlled by the jihadist alliance Hei'at Tahrir al-Sham (HTS), which has rejected de-escalation.
Idlib, according to Hassan Hassan, a senior fellow at the Tahrir Institute for Middle East Policy, is "the only major enclave in Syria where the former official branch of Al Qaeda dominates. No force in the country appears to be ready to fight a sustained battle to reclaim the province in the foreseeable future."
Russia, Iran, and Western powers all view HTS an irreconcilable terrorist organization that must be defeated by force.
The UN Office for the Coordination of Humanitarian Affairs (OCHA), via its digital service Reliefweb, published a report (pdf) by the International Crisis Group called "Averting Disaster in Syria's Idlib Province."
The ICG argues that the way to prevent Idlib from turning into a bloodbath is for Turkey to work with moderate rebels in the province to overthrow hardline Islamists and work toward a permanent peace.
"Turkey should deploy along the front line in cooperation with Russia, which should press the Syrian regime to delay, or even desist from, its assault," the ICG writes.
"This would buy time for renewed Turkish efforts to curtail transnational jihadist influence within HTS in favour of militants more open to de-escalation and compromise."
With the apparent growing appetite on the part of the Syrian government for military intervention in Idlib, the ICG call is becoming increasingly urgent.
Reuters contributed to this report