Super Voice Girls' Beijing Tour Generates Massive Turnout
October 11, 2005 12:00 am Last Updated: October 11, 2005 12:00 am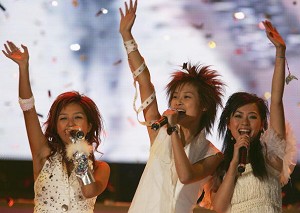 Li Yuchun, a star of the popular "Super Voice Girl" show in mainland China, held a concert in Beijing's Workers' Stadium. Several hours before the concert began, waves of Yuchun's fans, known as "corns," arrived and gathered for the concert. Nearly all ten thousand seats in the Workers&#039 Stadium were filled completely.
Li Yuchun won the televised singing competition program produced and broadcasted by the Hunan Province Satellite Television Station. She started to participate in commercial advertisements and scheduled tours with other "super girls." Their tours sparked manias in Chengdu and Shanghai as the tour train passed through.
The Beijing tour attracted a massive number of fans. The admission fee was raised from 50 yuan up to 680 yuan (approximately 2,720 Taiwanese yuan). The phenomenon of "Super Girl" has inspired much discussion in Mainland China. When asked about Li Yuchun's charm and charisma, 19 year-old Liu said, "Li Yuchun is a peculiar girl; that is, nobody can quite do anything like she does and she does not quite do anything like they do."
Miss Cao, a 26 year-old girl from Tianjin, replied, "I do not know why, but I just like her."
A cashier in the stadium indicated that the tour tickets were sold very easily and that several tens of thousands of tickets were nearly sold out.
Before the show began, fans swarmed up to the Workers' Stadium and caused traffic jam near the stadium. A taxi driver complained about the terrible traffic while driving, and especially when he heard that the VIP admission fee reached as high as 680 yuan.
He opened his eyes wide and babbled, "Six yuan and eighty cent might be worth it. As to six hundred eighty yuan, I would prefer spending that much money on two sets of clothes for myself."