Ike has been officially announced as a character in the upcoming Super Smash Bros. 4, which is coming out for the Nintendo 3DS in the summer and Wii U in this winter.
Ike's addition means that a purported full character list that was circulating online was wrong, because the Fire Emblem character was not on it.
Ike's design is be based off his appearance in Fire Emblem: Radiant Dawn.
He's seen in the screenshot below with the Female Villager on the Battlefield stage.
Game director Masahiro Sakurai shared the screenshots.

"Ike, the swordsman of magnificent strength, joins the battle!! Strike your foes down with his powerful smash attacks," he said.
"His sword deals heavy damage in Smash Bros., so this design suits him very well! Rest assured, he can use Aether as well."
Check out more screenshots below.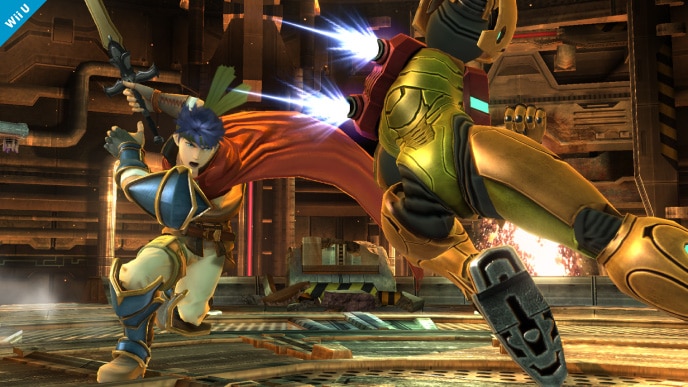 Sakurai also shared another screenshot recently showing the revival platforms for the upcoming game.

"The color of the bottom mechanism changes from yellow to red to warn you how much time you have left before you drop into the fray," he said.
See the full official character list so far below.
Ike
Greninja
Charizard
Yoshi
Sheik
Zero Suit Samus
Diddy Kong
Lucario
Little Mac
King Dedede
Zelda
Rosalina & Luma
Marth
Sonic
Toon Link
Peach
Luigi
Pikmin & Olimar
Mario
Villager
Donkey Kong
Link
Mega Man
Samus
Kirby
Pikachu
Fox
Wii Fit Trainer
Bowser 
Pit