A North Carolina Subway franchise owner said he "regrets" hitting a woman's cellular phone in a widely viewed video.
The woman who recorded the video, Tina Richardson, said she bought a sandwich at the Subway location in Concord. When she returned home to look at the food, she realized it wasn't what she had ordered, according to WSOC.
Richardson said she returned to ask for a refund.
A worker at the store called for a manager, who came out, cursed at her, and threw the sandwich at her head, she alleged.
"He doesn't get to treat anybody like that and that they get somebody into Subway to treat people with respect and fix problems when you're wrong. That's what you're supposed to do," Richardson told WSOC.
She is now planning on filing charges.
The franchise owner hit her head, threw her sandwich to the floor and then struck her cell phone, which she captured and shared on Facebook.

由 Yahoo Lifestyle 发布于 2019年3月12日周二
Richardson posted the video footage on Facebook, where it was viewed more than 1 million times.
The video allegedly shows the franchise owner charging at the customer before hitting her phone before going into the back room. The employee then swears at the woman and tells her to leave.
"Facebook Family and friends, please don't give Subway at 601 and Hwy 29 in Concord [your] business anymore. The owner thinks that it's ok to smack my phone away, smack me in the head and then throw the sandwich (that I was trying to get corrected by refund or store credit) at my head. What has this world come to," she wrote on Facebook.
Tina Richardson said she left Subway in Concord with a bad taste in her mouth, but it wasn't because of the food she ate.

由 NBC Charlotte 发布于 2019年3月12日周二
The initial part of the video was not recorded, and it's not clear what she said to the Subway franchise owner or employee.
A spokesperson for Subway said the owner regrets how he handled the incident.
"The local team has reached out to the guest to apologize on behalf of the restaurant as this incident is inconsistent with the high standards Subway requires of its franchise owners," it said.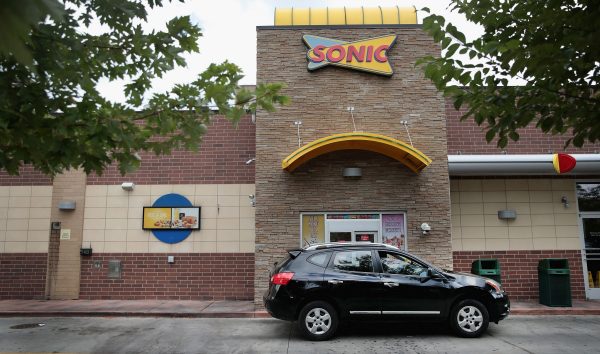 Workers Walk Off at 3 Sonic Locations
Sonic Drive-In restaurant workers walked off the job at three Ohio locations and left a note blasting the new management.
Sonic locations in Circleville, Lancaster, and Grove City saw total staff walkouts after the stores were bought by new owners.
A handwritten note said the "new owners are treating them bad (sic) and they have closed down the restaurant," describing the management as "terrible."
Here's the resignation letter from workers at the Lancaster Sonic, who quit at the same time as co-workers in Circleville and Grove City in protest of the new management: "You say racist things, you put people down and make them feel below you, you push push push push people." pic.twitter.com/l6T48hCAxP

— Eric Blanc (@_ericblanc) February 24, 2019
"The company has been sold to people who don't give a [expletive] about anyone but themselves," it continued. "Sorry for the inconvenience but our team refuses to work for a company that treats their employees like they are [expletive] when they have put everything into this [store]."
The note, signed by "ex-Sonic crew," also said the employees "worked to hard (sic) for to long (sic)."
"We are off to better things," it continued, adding another curse word directed at the owners.