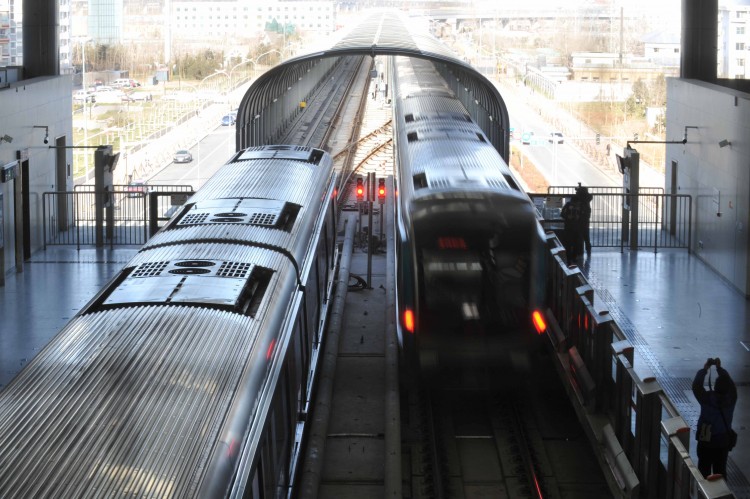 China is now having a boom in subway construction; small or large, every other city is aspiring to build a rapid transit railway network. China Youth Daily reported on July 20 that China's State Council has approved the subway construction plans for 28 cities. Statistics show that there were only 10 subways operative in China in 2006, but after 2010 there were 48, and there will be 96 by 2015.
By 2020, the budget allocation of the municipal railway transportation in China will exceed 1 trillion yuan (approximately US$155 billion), mainly investment in subways.
Subways have the advantages of using the least space, having the largest capacity for passengers, traveling the fastest, and producing the least pollution. Subways in major cities such as New York, London, Paris, Tokyo, and Beijing take care of 50-80 percent of total commuters.
However, ever since the world's first subway opened to traffic in London in 1863, building subways has viewed with apprehension because of the high costs of construction and operation.
Wang Mengshu, professor of Beijing Jiaotong University, told World Finance on July 20, "In China, the cost of subway construction is about 500 million yuan (approximately US$77.5 million) per kilometer. If a subway is 30 km long, the cost will be go up to 15 billion yuan (approximately US$2.3 billion). It is a year's total fiscal revenue for a medium size city."
Nanning, the capital city of Guangxi Zhuang Autonomous Region in southern China, had a total revenue of 23.1 billion (approximately US$3.58 billion) in 2009. The construction of the subway itself will cost the city its total revenue for four to five years.
Currently, the State Council's minimum criteria for approval for a city to build a subway are, having a population of more than three million, more than 100 billion yuan (approximately US$15.5 billion) of total GDP, and more than 10 billion yuan (approximately US$1.5 billion) of revenue. But many cities who do not meet these requirements also want to build subways.
Interest-driven
Zhang Yan, the Secretary-General of the Chinese Civil Engineering Society, said: "Every 100 million (approximately US$15.5million) invested in the subway will bring 263 million yuan (approximately US$40.8 million) of GDP growth. During the Twelfth Five-Year Guideline (2011–2015), investment in subway construction will be more than one trillion yuan (approximately US$154.95 billion), which will bring more than three trillion (approximately US$464.85 billion) of GDP growth."
Many cities are insistent on the demand and press for a shorter time for processing. "Their goal is to launch the project before the mayor leaves his office," Zhang said.
Facing a nationwide boom in subway construction, the State Council had earlier decided to freeze the subway project in most cities in 1995 and 2002. However, after the financial crisis, the 2008–2009 Chinese economic stimulus plan brought in a "stimulus package" of four trillion yuan (approximately US$619.8 billion), and scrutiny and approval of subway construction has been greatly relaxed.
The trend has been set for building subways in medium-sized and small cities, causing a boom. While other countries may take 100 years to complete a task, China has a reputation for completing the same in 10 years. However, the inherent problems in the task of constructing umpteen subways cannot be ignored.
For funding the project, Wu Yaping, a researcher in the Institute of Investment of the National Development and Reform Commission, said in an interview with China Youth Daily that some local governments mortgage the land to establish a financing platform and take out large loans from the bank.
For example, a government with only two billion yuan (approximately US$310 million) in capital can take a loan of up to 20 billion yuan (approximately US$3.1 billion).
"It will indeed bring the growth of GDP, but the potential risk involved in the debt has also increased because of the leverage effect," said Wu.
Read original article in Chinese