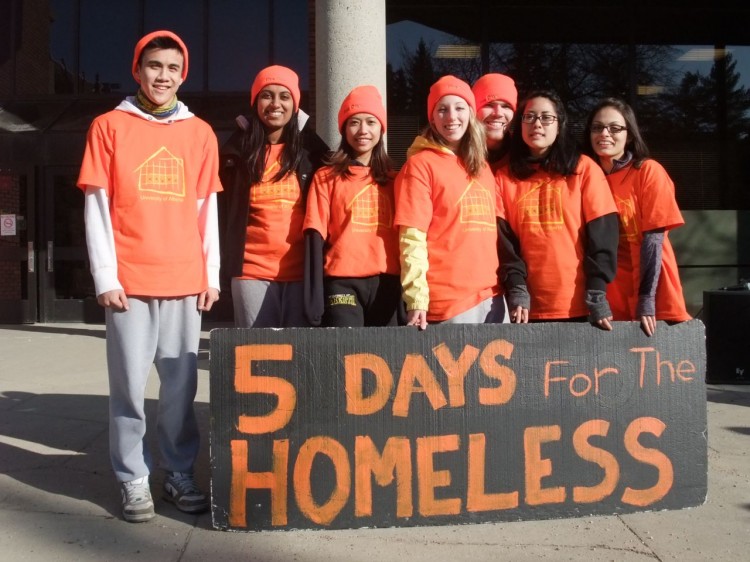 University students and politicians across the country are sleeping outside in frigid conditions this week in efforts to raise both awareness and money for youth homelessness.
The annual campaign, dubbed 5 Days for the Homeless, began at the University of Alberta in 2005 and has since exploded in popularity, having been adopted in 24 universities nationwide.
This year at the birthplace of the campaign, eight University of Alberta students are braving five nights outside from Mar 11-16, armed only with sleeping bags and cardboard "mattresses" in an attempt to raise $25,000 for Edmonton's Youth Emergency Shelter Society.
"I didn't realize how cold it got at night and I don't think many people do, because usually we're in bed in our warm houses. That was a learning experience," says business student and event co-chair Kristiann McCool after spending her first night outdoors.
"It's difficult as we don't have the same resources as we usually do, like our laptops and a quiet place to study … but I think that's the struggle that a lot of the homeless youth in Edmonton have to go through."
City councillors and university administration came out in full force to show their support and commend the students for their efforts.
Strathcona County Mayor Linda Osinchuk, Spruce Grove Mayor Stuart Houston, and U of A dean Joseph Doucet delivered warm words of encouragement at a ceremony in Edmonton on Monday.
"As university students you are the future of our society and I find it very inspiring that you're reaching out to help your peers," said Houston.
According to the rules of the campaign, students must be outside every night between 7 p.m. and 7 a.m., are prohibited from having any money, food, or drinks unless food items are directly donated, and have no access to showers, but must attend all regular classes and extra-curricular activities.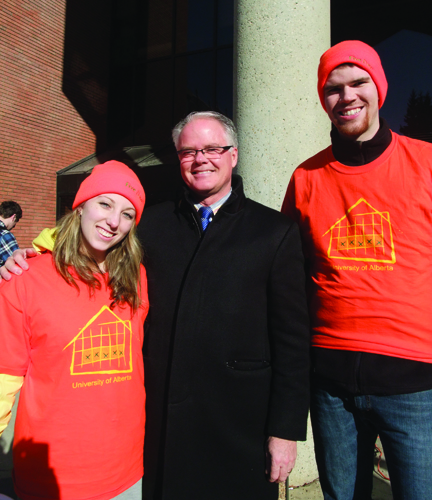 At nearby Grant MacEwan University students also took part in the event, with the help of Ward 11 Edmonton city councillor Kerry Diotte, who joined in the sleep-out on Sunday, the first night of the campaign.
"It was very lucky we had a tarp to huddle under and keep our sleeping bags dry. Earplugs were also handy to block out the incessant traffic noise. But there was little to give us comfort from the concrete we slept on. The students and I agreed we woke up often and slept fitfully," Diotte posted on his website the morning after.
"I can't imagine what it must be like for folks in our city who wind up sleeping on the streets 365 days a year. But I got a small taste of it."
The charity event has attracted increasing support since 2005. Starting with one university, it raised $2,000 its first year. In 2011, over $225,000 was raised in the campaign across 22 campuses nationwide.
Media attention has also served to boost the event along with participation from politicians such as Justin Trudeau, who slept outside with Carleton University students in Ottawa on Monday night.
At the time of writing $43,753.57 was raised nationwide. The goal is to raise $286,000.
"It's an eye-opening experience," said business student and U of A event co-chair Nicole Cayanan. "It's not really for my benefit, it's mostly just to raise awareness—but the experience is a bonus."
Approximately 65,000 youth in Canada are homeless or live in homeless shelters at some time during the year, according to charity group Raising the Roof.