A group of students walked out of a Florida high school on Friday, March 30, in support of the Second Amendment.
"I'm pro-Second Amendment," Rockledge junior and Anna Delaney told WFTV. "I wouldn't mind deeper background checks, of course, but the Second Amendment will not be infringed upon."
The walkout took place at Rockledge High School. Some of the students who walked out said they felt silenced when the movement to honor the victims of the Florida school shooting became political.
An alleged lone gunman at the Stoneman Douglas High School in Parkland, Florida, killed 17 people on Valentine's Day earlier this year.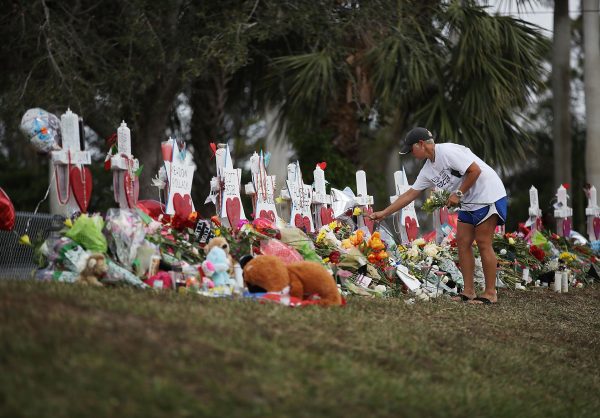 The walkout at Rockledge High School lasted about 20 minutes. Approximately 75 students attended, according to Florida Today.
"It's all over the news right now that all students hate guns," Zachary Schneider, a junior, told Florida Today. "I wanted to show that not all students feel that way."
Students held American flags and signs.
"The beauty of the Second Amendment is that it will not be needed until they try to take it," one sign said, quoting Thomas Jefferson.
Students at Rockledge High School also walked out on March 14 as part of a national walk-out, honoring Parkland victims and calling for gun control.
After the Parkland shooting, the Florida legislature passed the Marjory Stoneman Douglas High School Public Safety Act, which raised the minimum age to buy firearms to 21 and allowed for some teachers to carry weapons in school with the permission of the local school district and sheriff's office.
"I finally got old enough to buy my own ammunition and my own guns, and I lost it again," Schneider said.
The Rockledge walk-out took place just days after President Donald Trump said that "the 2nd Amendment will never be repealed" in response to comments by former Supreme Court Justice Paul Stevens who called for Americans' right to bear arms to be taken away.
THE SECOND AMENDMENT WILL NEVER BE REPEALED! As much as Democrats would like to see this happen, and despite the words yesterday of former Supreme Court Justice Stevens, NO WAY. We need more Republicans in 2018 and must ALWAYS hold the Supreme Court!

— Donald J. Trump (@realDonaldTrump) March 28, 2018
In the wake of the Parkland shooting, Trump pressed Congress to pass the STOP School Violence Act, which secures grants for school safety programs and the Fix NICS bill, which tightened background checks.
At the president's direction, the Justice Department also issued guidance banning bump stocks, which can be used to aid in automatic fire.
Recommended Video:
Trump Calls on Nation to 'Answer Hate with Love' after Florida School Shooting Tragedy