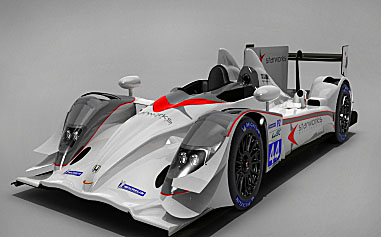 Starworks Motorsports has doubled down for the 2012 endurance racing season. The Florida-based team will be competing in the Grand Am Rolex Sports Car Series, as it has since 2010, and will also be racing in the World Endurance Championship.
Starworks will be running two Riley-Ford Daytona Prototypes in the Rolex Series, with Drivers Enzo Potolicchio and Ryan Dalziel in the No. 8 car and Alex Popow and Lucas Luhr in the No. 2—the same basic lineups which earned the team second and tenth-place finishes in the 50th Anniversary Rolex 24 at Daytona last weekend.
The team has also entered an HPD ARX-03b in the LMP2 class of the World Endurance Challenge, again with Ryan Dalziel and Enzo Potolicchio behind the wheel. The ream has yet to take possession of the car, but it has set up a new facility in Cardiff, Wales as a base of operations for its WEC efforts after the opening round at Sebring on March 17.
The two schedules only offer one conflict: the WEC Bahrain round on Sept. 29 and the Rolex Lime Rock race on Sept. 30. A spokesperson for Starworks said the driver line-ups for those races would be worked out at some future date. The decision where to commit Dalziel and Portolicchio will probably be based on which series the team had the best chance of winning.
The WEC entry was a surprise to most endurance racing followers; even team owner Peter Barron admitted on the team's website, "It seemed like such a far-fetched dream even to contemplate doing the WEC for 2012.
"Pushing ourselves, we looked at our assets and our potential, and we thought 'We are just a few key hires away from having the right people in place.'
"The most important thing is that we have everything in position not just to compete, but to challenge. We are not there to just participate, we are there to compete for a championship. Our team has a tremendous wealth of experience running high-tech cars, and we are up to the challenge.


"We will be a bit tight for time for Sebring as we are still waiting for the car, but even so, we showed at this past 24 Hours of Daytona, we can dominate a race with getting a car moments before a race.
"Our goals are victories and the championship, and, in Ryan and Enzo, we have a fantastic pairing that can achieve our goals for us and Honda.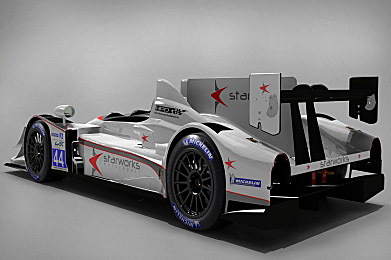 "If people look at what Starworks has done in the last six months and what our goals are, then they will know that we are driven, determined and focused. This program will be successful."
Starworks will have to climb a steep learning curve. The team will not get its new ARX-03b until after the American Le Mans Series Winter Test, Feb. 8–9, so it will not have a chance to set up the new car for the tough Sebring track until a few days before the green flag drops for the 12 Hours. Many of Starworks' competitors will be at the Winter Test, or have run there in the past, and already have baseline setups.
Yet as Peter Barron pointed out, the team has already some amazing things in the past six months—a good result at Sebring should almost be expected.
As Ryan Dalziel said on the team's website: "It's going to be very difficult to start with but we have already hired some really key personnel for the WEC program and I believe we will be in the strongest package out there.
"We can't wait to take on the other teams at some of the most iconic tracks in the world, and we are confident of success.
"We ended the 2011 season with a victory. We started the 2012 season with fastest lap in the Dubai 24-hour, a podium in Abu Dhabi 12-hour, pole position for Daytona which carried over to fastest race lap and a second place finish.
"2012 is going to be huge, not only for me, but for my team mate Enzo Potolicchio, who has worked so hard alongside Peter Baron to find the resources to make these deals possible. I am massively grateful for Enzo and Peter's faith in me and for this amazing new opportunity.