Stacked townhouses, once only to be found in downtown Toronto, are now cropping up all around the GTA—and beyond.
That's according to Ben Myers, senior vice-president of market research and analytics for Fortress Real Developments, which is partnering with ADI Development Group on this summer's launch of Station West, a mixed-use community in Burlington that'll feature stacked townhouse product prominently.
The first phase of this 13-acre development—located in an area targeted by the City of Burlington for hyper-intensification, adjacent to Aldershot GO station—will include 200 stacked towns. (It will also have 64 standard townhouses and 60 back-to-back townhouses.) The homes are designed by Icon Architects, with interiors by U31.
Not that long ago, Myers said, the GTA averaged 10 to 15 stacked townhouse projects a year.
"Now we're getting 20 to 25 of them."
Stacked towns are a palatable alternative for those who can't afford a detached home but don't want to live in a tall condo tower.
"It's starting to sink in with the buying public that this is a viable product type," says Myers, adding that stacked towns are more family-friendly than condos, typically sized from 800 to 1,200 square feet, and with lower monthly fees. Even investors, normally drawn to smaller condo suites, are getting in on the stacked town action. "Before they stayed away from low-rise," Myers says, "but now they're saying, 'I can understand this. Housing has become more unaffordable for a young family. This makes sense.'"
Stacked townhouse projects are especially appealing to developers, who are finding it more difficult to make smaller properties work as traditional townhouse sites amid skyrocketing land prices. "So the need to push density makes stacked townhouses the happy medium."

Townhouses—though not stacked ones—also will be on offer at Union Villas, a development by Fortress and partner Sunrise Homes, launching later this year in Unionville. The upscale project will have 52 two- and three-storey townhouses—some as large as 3,000 square feet, and with two-car garages—priced at more than $1 million. Situated on Highway 7 just past Birchmount Road, Union Villas is expected to attract almost exclusively Asian purchasers, Myers reckons.
"These homes are aimed at move-down or young buyers who don't want the maintenance of a detached house."
If they could even find one, that is. There were a scant 4,000 new low-rise homes available for sale last year, Myers points out; 10 years ago supplies hovered around 17,000. "So you can see why prices are going up so dramatically. And why places most people in the GTA hadn't heard of a decade ago—Sharon, East Gwillumbury, Queensville, Bond Head—are now driving most of the new detached home sales."
Speaking of new frontiers, Fortress is partnering with Symmetry Developments and Engine Developments on Lake & East, a sleek 14-storey glass condo tower in the Bronte area of south Oakville.
"Design-wise it's really a change from what's typically built in Oakville," says Myers (Symmetry's prior projects, like Origami Lofts on Queen West, and The Hive in Etobicoke, also pushed the architectural envelope).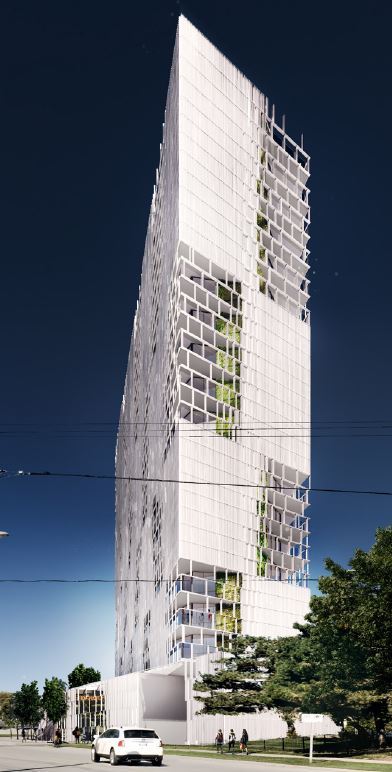 Lake & East, located at the corner of Lakeshore West and East Street, will have 140 residential units averaging 825 square feet— with waterfront views on upper levels—and ground-floor retail. "It's going to appeal to a suburbanite who likes that cool downtown Toronto modern architecture but wants to stay in Oakville," Myers explains.
Other projects coming from Fortress this year include phase two of The South Shore, a waterfront development on Lake Simcoe in Georgina. These homes will be right on the water, larger units up to 2,000 square feet that cater to locals as well as York Region residents looking for a vacation residence. "There are very few opportunities to be on the water that close to the GTA," says Myers.
Fortress is also launching a 40-storey condo project on the southwest corner of Richmond and Peter streets, a joint venture with Carlyle Developments and Berkley Developments.
Another condo in the already dense Entertainment District? Why not, says Myers. The market is certainly there, he points out, given that folks who only a few years ago would have started off in a condo then moved to a low-rise home are now remaining in condos longer as affordability becomes a big issue. "They're starting out in 500 square feet, moving to 750 square feet, then into a stacked townhouse," Myers says. "There are additional steps in the property ladder now. It's the new reality for the GTA."
Ryan Starr is a Toronto-based freelance journalist.