Former Georgia Democratic candidate for governor Stacey Abrams said in a recent interview that she will not run for president in 2020 but she hinted that she was open to the prospect of being considered as vice president for any of the 2020 Democrats.
"I would be honored to be considered by any nominee," Abrams told The New York Times in an interview published on Aug. 14.
Abrams, who came into the spotlight last year after her failed Georgia governor bid, said she was open to other political opportunities but will focus her efforts in battling voter suppression.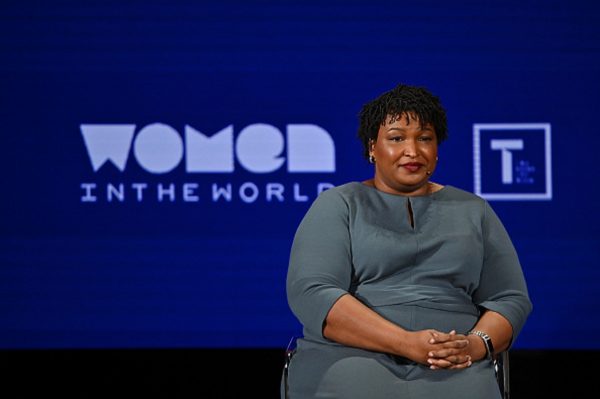 "I've been thinking about this for the last few weeks, and I've just come to the decision that my best value add, the strongest contribution I can give to this primary, would be to make sure our nominee is coming into an environment where there's strong voter protections in place," she said.
The former Georgia lawmaker began advocating for stronger voter protections after she claimed that the 2018 gubernatorial election in Georgia was "rotten and rigged." Abrams said she still refuses to concede that race to Gov. Brian Kemp, who she narrowly lost to, calling it a "stolen election." According to the Washington Free Beacon, Abrams lost the Georgia election by 54,723 votes.
The election was plagued by controversy as Kemp, who was Georgia's secretary of state at the time, managed the election. Abrams claimed that Kemp's office had more than 50,000 voter registration applications still pending, reported NBC, thus accusing Kemp of voter suppression.
However, according to Reuters, he resigned as secretary of state after the Nov. 6 election and didn't oversee the review of the final ballot tally. Kemp has also denied Abrams's allegations against him, saying that he was following the law.
Abram's nonprofit, Fair Fight Action, has launched a lawsuit (pdf) against Georgia officials claiming that the election was "grossly mismanaged," which the organization says "deprived Georgia citizens, and particularly citizens of color, of their fundamental right to vote."
This news comes after Abrams announced she would not run for Senate in 2020 back in April.
Abrams explained at the time in a video that being a senator would not be "the best role for me in this battle for our nation's future," but added that she still didn't "know exactly what's next for me."
In her interview with The New York Times, she said decided not to run for Senate because she thinks "that there are people who are running who are the right people for that job."
"And I'm going to do my best to ensure that they can become the senator from Georgia. And that means fighting voter suppression," she added.
Abrams served as Minority Leader of the Georgia House of Representatives from 2011 to 2017. According to an op-ed by Trevor Loudon, an expert on communism and a contributor to The Epoch Times, Abrams is being covertly supported by the United States' largest Marxist organization, the Democratic Socialists of America (DSA).
He says the group has not publicly endorsed Abrams but is urging their members to participate in her campaign against Kemp.
Moreover, Loudon said Abrams has been linked to the Metro Atlanta chapter of the DSA for many years. She spoke at the organization's first membership meeting in 2011.