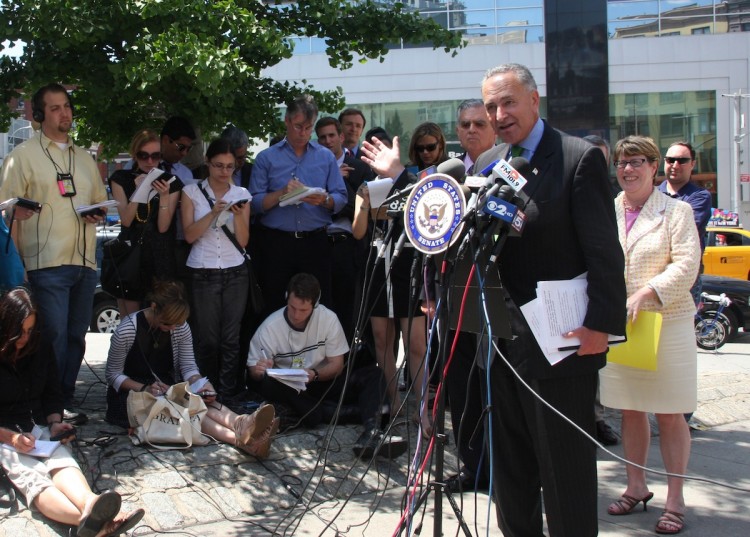 NEW YORK—The inter-city bus competition just got less crowded.
The U.S. Department of Transportation's Federal Motor Carrier Safety Administration shut down 26 bus carriers operating under three larger entities—two based in Manhattan's Chinatown—citing a wide range of safety issues that make the companies' operations "an imminent hazard to public safety," according to one of the orders to halt service.
Multiple accidents along I-95 last spring, including one in the Bronx that killed 13 people, prompted the investigation. The bus companies shut down carried more than 1,800 passengers a day along I-95, from New York to Florida.
The investigation discovered safety violations ranging from bus drivers not having commercial driver's licenses to a lack of alcohol and drug testing programs.
Buses were not being inspected or repaired according to regulation standards.
"These aggressive enforcement actions against unsafe bus companies send a clear signal: If you put passengers' safety at risk, we will shut you down," U.S. Transportation Secretary Ray LaHood said in a release. "Safety is and will always be our highest priority."
LaHood made the announcement from a Chinatown sidewalk Thursday.
Bus safety came under the purview of New York politicians this year, leading state Sen. Daniel Squadron in April to craft an agreement to make a permit system for drop-off and pickup locations. Squadron said in a release that Chinatown has a "Wild West atmosphere."
I-95 Coach, one of the three larger entities that were shut down, was reached Thursday by phone. A woman, after asked about the ruling, said "We cannot answer that over the phone." When asked if the company is still selling tickets, she said, "No, we don't sell tickets," then hung up. The other two companies didn't answer phone calls or emails. All of the companies' websites appeared to still be selling tickets, and a blog of one of the sites made no mention of the shutdown.
The companies must cease operation immediately, according to federal documents, or face penalties up to $16,000 per day for every day it continues operating. If the companies make the changes ordered by the transportation department, they could eventually begin operating again.
The Epoch Times publishes in 35 countries and in 19 languages. Subscribe to our e-newsletter.