Snap polls conducted after Republican frontrunner Donald Trump said he'd like to ban all Muslims from the United States show support for the proposal.
Almost two-thirds of likely Republican primary voters support the proposal to ban Muslims from entering the U.S. for an unspecified period of time, according to an online survey from Bloomberg Politics. While 65 percent said they favor the proposal, 22 percent said they oppose it while 13 percent said they don't know.
Even with added context, with the pollsters explaining both sides of the argument, the numbers remained almost unchanged.
Those polled were later asked whether the proposal makes it more likely they'll vote for Trump.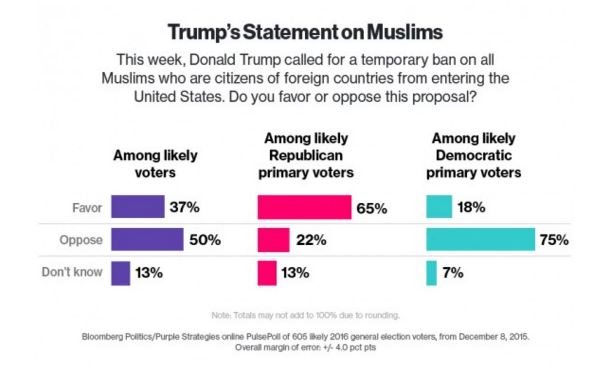 The online survey shows 37 percent saying yes, with 16 percent saying it makes them less likely to support the real estate mogul and 46 percent saying it has no impact.
"We believe these numbers are made up of some people who are truly expressing religious bigotry and others who are fearful about terrorism and are willing to do anything they think might make us safer," Doug Usher, who runs polling for Washington-based Purple Strategies, which helped conduct the poll, said in his analysis of the findings.
"This indicates that, despite some conventional wisdom expressed in the last 48 hours, this is unlikely to hurt Trump at least in the primary campaign."
On the other hand, the majority of Democrats polled–75 percent–were opposed to the proposal, with 18 percent in favor and 7 percent not knowing.
Oh no, what happened to your narrative? #Trump pic.twitter.com/5YUNo3esqo

— Lauren Southern (@Lauren_Southern) December 9, 2015
In another poll conducted by MSNBC through Bing, the majority of all races–political affiliations weren't disclosed–said that Trump did not "go too far" with his plan.
Also after Trump's comments, an online poll was conducted in cities near San Bernardino, where two Muslim terrorists killed 14 people and wounded 21 others on December 2.
The polls, conducted on people in Fresno and Visalia, and in San Diego, indicated a majority of support for the "complete shutdown" of Muslim arrivals.
The majority of Republicans and Independents in both places strongly or somewhat agreed with the proposal, although Democrats again said they disagreed more than agreed with it.

The SurveyUSA poll also asked people if they thought the Islamic religion is peaceful or violent, and pluralities of voters said they believe it is violent.
In general polls, Trump has taken an even bigger lead.
In the latest CBS News poll, conducted in October and published this week, Trump garnered 35 percent support among Republican primary voters, with Ted Cruz in second with 16 percent. The 35 percent is the highest support Trump has reached yet.
Trump has retained a big pack of support in North Carolina, the Public Policy Institute said in a poll conducted from Dec. 5 to Dec. 7. He garnered 33 percent support, versus 16 percent for Cruz.

Trump doubled down on his proposal in new interviews, telling CNN that his friends that are Muslim support the ban. 
"Many Muslim friends of mine are in agreement with me. They say, "Donald, you brought something up to the fore that is so brilliant and so fantastic," Trump said.
He added that "one of the most important people in Middle East" thanked him for his plan.
Asked about the criticism he's been recieving from officials and pundits, Trump responded: "The group that is not criticizing me is the public. The public agrees with what I said. They saw those two animals go out last week and shoot people."