Movie Ticket Costs 5 Percent of Per Capita Monthly Income
September 1, 2010 1:15 am Last Updated: October 1, 2015 7:09 pm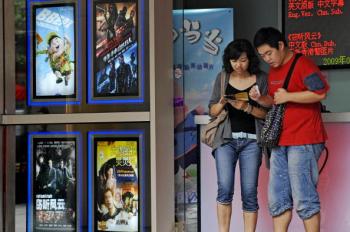 Movie ticket prices in China have skyrocketed over the last 20 years, from a few of dimes to several dollars, and they are now a veritable luxury item. Earlier this year, a ticket to the 3D movie Avatar in Beijing sold for as much as 150 yuan (approximately US$18); to put this in perspective, the average per capita monthly income in Beijing in 2009 was 1303 yuan (US$157).
"A movie ticket is equivalent to 1/400 of per capita monthly income in the United States, but about 1/20 in China—20-fold higher than the former," Shanghai Jiaotong University's Li Yichung commented to China Youth Daily.
The average movie ticket price was 36.38 yuan last year, equivalent to 2.5 percent of a month's discretionary income, according to the Daily; this is higher than 0.5 percent of monthly discretionary income for a movie ticket in developed countries.
Given the current cost of tickets relative to income, additional increases in admission prices will further reduce the numbers of moviegoers, which could bring about a surge in DVD piracy and illegal Internet downloads.
The total number of annual movie views in China in the early 80s was around 29.7 billion—close to thirty trips to the cinema per year, per person. Currently, the total number of movie views hovers at around 70 million, according to Sina. This means that while Americans on average watch movies in theaters 5.7 times a year, and Koreans 2.27 times a year, Chinese people, on average, see only one movie every five years.
According to the China Youth Daily, there is a cinema screen for every 9,000 people in the U.S.A. In China that figure is one screen for every 190,000 people, according to data in a Sina report. Voice of America gives a different figure: that there is one screen for every 75,000 people, calculated at a potential 300 million viewers across 4,000 screens.
Beside the limited number of available cinemas and screens, the reason for higher ticket prices is also related to steadily rising real estate costs and rentals for commercial properties—all of this conspires to make movie-going a luxury in China.

Read the original Chinese article.