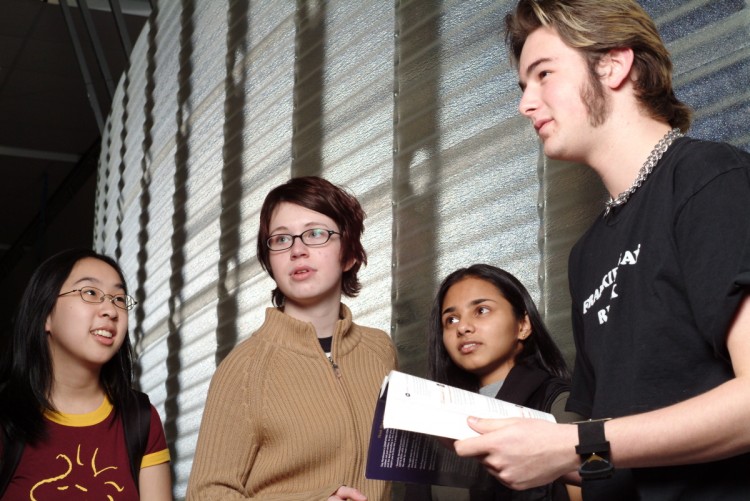 In recent years, retro-style private schools have been reemerging in many cities in mainland China. Parents who want their children to learn and study traditional Chinese culture are enrolling them in these schools. Traditional Chinese culture is still considered by many to be the essence of Chinese heritage that displays the wisdom and mind-set of Chinese ancestors,.
In a typical classroom of one of these private schools, there is usually a portrait of Confucius hanging on the wall. Xuan paper or rice paper, writing brushes and other teaching aids are put next to the teacher's desk. The children happily follow along as their teachers recite Chinese classical texts such as the Four Books and Five Classics. Along with this, they also study Chinese poetry, other classic texts and calligraphy. It is like a scene out of ancient China.
"Sishu" is the name given to one of these traditional private schools in which there is a scholarly tutor teaching students in a private schoolhouse. These Sishu private academies were popular in ancient China. They take on the characteristics of the ancient style of teaching that formed the foundation of traditional tutorial systems in the country.
These new Sishu schools in China are not exactly the same as those in the ancient times. Back then, children were required to recite all kinds of classical Chinese texts. Nonetheless, they are totally different from modern schools.
Sishu was abolished in 1905. After that, public education combined with a more Western type curriculum was promoted in its place.
According to a 2005 report by China Today, in 1995, nine distinguished Chinese scholars proposed setting up children's classes in Chinese classics in order to enrich their knowledge of Chinese literature and traditional culture. The proposal was welcomed by those who believe the traditional Chinese culture was destroyed during the Cultural Revolution (1966-1976) and who want their children to have a solid base in fundamental morals and ethics. Many believe that the thoughts of ancient Chinese sages, such as Confucius and Mencius, still have relevance in contemporary society.
Amid a nationwide desire for Chinese traditional culture, "Sishu" have reemerged across the country.
Sishu Thrives on Traditional Culture
In the summer of 2005, two young men began teaching their first lessons on traditional culture, in a villa called Chrysanthemum Room (Ju Zhai) in Suzhou City, Jiangsu Province. The syllabus of Ju Zhai covered moral anecdotes, Confucian classics and ancient poetic literature for six children from the ages of six to eleven.
In 2005, a group of parents opened a full-time private institute, a Sishu-modeled school named Meng Mu Tang (after the mother of ancient Chinese philosopher Mencius) in suburban Shanghai. Twelve children between the ages of four and twelve studied Chinese by reciting Confucian classics such as the Book of Changes (Yijing) and the Analects (Lunyu). They also studied English by reciting the works of William Shakespeare.
In April 2007, A "Sishu" was opened for kids between five and eight in Dalian City in the northeast of China. The Chinese News Service reported the school intends to teach Chinese traditional culture to kids. Twenty-four kids attended the first class of the school wearing traditional Han (the main ethnic group of Chinese people) clothing. The teaching content included the writing of Chinese characters, traditional literature and the arts.
In 2008, More than 200 children were learning traditional Chinese culture in 10 Sishu schools, all of which are located in the suburbs of Beijing. They studied ancient Chinese classics including the Four Books and Five Classics.
Most of the Sishu in China are run in a similar manner. Many parents approve of the private education system, saying that the private tutorial system can not only guarantee a sound general education but also be helpful for improving children's basic understanding of their traditional culture.
Experts expressed that reading Chinese classics and reciting poetry are beneficial for children. By the time they reach adulthood, they have a deeper understanding of what these works convey and often consciously apply the principles they imbue to their everyday lives.
According to a report by the China Internet Information Center on November 5, 2008, candidates with both a bachelor's degree and a perfect command of traditional Chinese culture qualify to teach in a Sishu. The tutors listen to lectures delivered by Buddhist or Taoist priests at regular intervals to improve their skills in the teaching of traditional Chinese culture.
The report says that the private tutorial system is open to those who are interested in traditional Chinese culture and who do not adapt readily to the education process in modern schools.
Sishu Teaching and Compulsory Education
The resurrected Sishu has triggered a debate in the country, the most heated aspect of which is whether or not Chinese classics are important for the young generations in addition to their nine-years of compulsory education.
A Shanghai sishu's teacher and owner said that his teaching did not aim to merely equip children with traditional Confucian dogma. Instead, it is designed to help cultivate children's inner moralities, such as modesty and politeness, based on the essence of Confucianism.
According to a BBC report, more than 100 children have enrolled for classes in a small private school in Wuhan City, Hubei Province. Parents agree that traditional culture has many advantages that cannot be learned through modern education.
A mother of a three-year-old pupil says, "It emphasizes virtues like kindness and self-discipline. It is very good for my son and very good for Chinese society as well."
The father of a child named Zhenran who studies at a Sishu in the suburban area of Beijing said, the current school system cannot provide personalized education, but education should be provided according to a student's individual innate abilities in the first place. Learning Chinese classics will benefit a student's entire life.
The China Today report says, those that advocate the study of Chinese classics argue that the fundamentals of traditional Chinese literary culture have been neglected. China's rich culture and traditions have ensured the survival of the Chinese nation during difficult times, and if the importance of Chinese literary classics within education is not sufficiently stressed, the Chinese cultural heritage may fade away.
One mother had a different opinion, she said, "What a waste of time! The curriculum is so heavy and it may not be helpful for getting into higher education."
According to Liaoshen Evening News, the Jiu Wen School in Shenyang City, Liaoning Province is the first of these private schools to be approved by the Ministry of Education in the country. Yu Jingmin, the school's founder, said that his original intention was to set up a full-time private school. Later, he reformed it to conform to China's compulsory education law, while observing the fact that some schools were branded illegal such as Meng Mu Tang that did not apply for a license from the local educational authority.
The Chinese Internet Information Center report reveals that not all of the tutorial schools in Beijing have obtained the relevant permits from the administrative authorities for the Ministry of Education. Officials of education departments hold the view that children should receive compulsory education in modern schools.
Wang, a lawyer from Beijing's Juntai Law firm, said that compulsory education is the standard practice for all school-age children according to the state law, so private tutorial schools operating without permission from the Ministry of Education might be accused of practicing illegally.
Read original Chinese article.