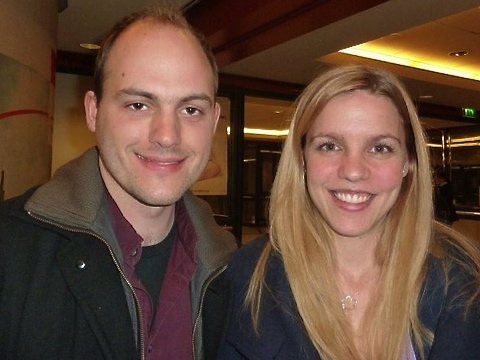 FRANKFURT, Germany—The Jahrhunderthalle in Frankfurt am Main hosted Shen Yun Performing Arts International Company's opening performance in the Germany city on March 30.
Mr. Martin Markwart, a sinologist who is conversant in the Chinese language, literature and culture, and his Taiwanese-born wife of 32 years, were in the audience attentively watching the New York-based company's performance of classical Chinese dance and music.
A performance by Shen Yun is a presentation of traditional Chinese culture as it once was: a study in grace, wisdom, and the virtues distilled from the five millennia of Chinese civilization, says the company's website.
Shen Yun also combines two great musical traditions, seamlessly blending sounds from the East and West to create a harmonious sound, playing all-original compositions, something that captivated Mr. Markwart.
"I was most fascinated with the blending of Eastern and Western music. This was just out of this world. I was truly amazed by how they created such music and how they harmonized the different instruments. This was marvelous," he said.
"The compositions were highly interesting. There were some modernist tones and yet also ancient tones interspersed," he added.
"Animated backdrops transport the audience to another world … the hi-tech images lift the stage and set it amidst blossoming landscapes, deep forests, Mongolian prairies, or celestial paradises," explains the Shen Yun website.
Mr. Markwart said: "The backdrop was amazing. Looking at the technique and then watching the changes, such as what's on the backdrop and then the figures come out of the pit. It was very persuasive and it appeared that they came out of the backdrop."
Mr. Markwart was impressed with the dance Sleeves of Silk. Classical Chinese dance uses what are known as "water sleeves" for some of its loveliest expressions. Acting as extensions of a dancer's arms, these sleeves linger in the air long after a movement is finished, says the company's website, something Mr. Markwart could relate to with his background in Chinese culture.
"Given my background as sinologist, I could see the truth of the scene Sleeves of Silk. It was fascinating to watch all what the dancers could do with these sleeves."
"There was so much I remember from what I have learned in the past. So much was just like a typical lifestyle at a given time in China's history."
Mr. Markwart also commented of two dances that depict contemporary scenes from modern day China and the persecution of Chinese practitioners of Falun Gong, a traditional spiritual discipline.
"It is most difficult for me to understand that people can hurt each other. I'm deeply shocked and that is why the two scenes depicting the modern-day Chinese dilemma is so touching."
"These two pieces tell of hope. There are always people that will come forward and be there when most needed," he said.
New York-based Shen Yun Performing Arts has three touring companies that perform simultaneously around the world. Shen Yun Performing Arts International Company will next perform in Stockholm, Sweden from April 4-6.
For more information, please visit ShenYunPerformingArts.org.