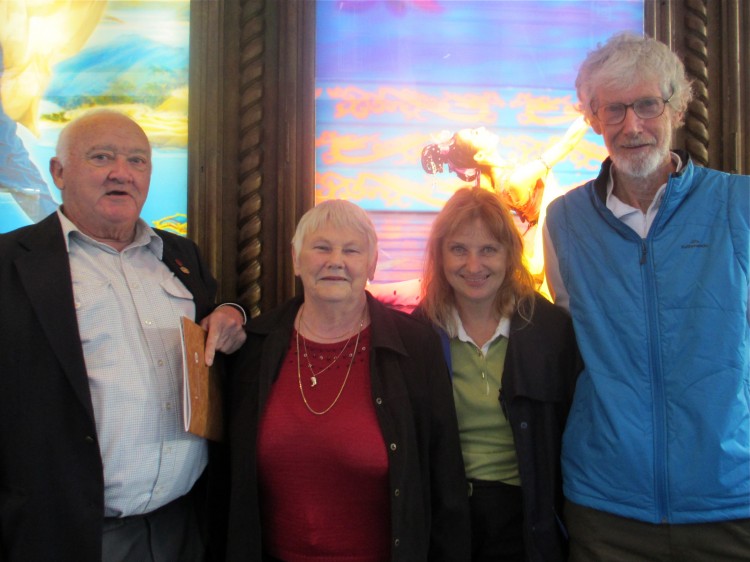 SYDNEY—Hailed as the world's premier classical Chinese dance and music company, Shen Yun Performing Arts New York Company continued to excite audiences at Sydney's Capitol Theatre on Wednesday afternoon, May 2.
John McRae, former vice president of the Chinese Culture Club, and principal technical officer in the telecommunications industry, now retired, attended with his wife, Joan, and their friends Harry Battam, a retired principal engineer, and his wife Jan, a computer analyst programmer, also retired.
Shen Yun Performing Arts, based in New York, has three touring companies that perform simultaneously around the world with a mission to revive China's five-millennia-old cultural heritage, which has been all but destroyed under China's communist regime, says the company. The company includes award winning dancers, vocalists, solo musicians and an orchestra that plays a fusion of ancient Eastern and classical Western instruments.
The friends were so excited about the performance that they broke into a chorus. "Excellent. Absolutely excellent," said Mrs. Battam. "It was exquisite, it was brilliant," Mr. Battam chimed. "I thought it was absolutely fantastic. I loved it," said Mr. McRae.
Mr. Battam, who said the dancing was exquisite, added that and the music, including the singing, was brilliant as well.
"The soprano and … the tenors, it was all good—I've never seen anything like it before in my life, ever. You know, it was brilliant," he added.
He drew comparisons with dancing styles that he was familiar with. "It's just so different … just all the texture in the dancing was brilliant; totally different. I'm not a real dancing fan, but after seeing that—I love it!"
Mr. Mcrae said he was a dancing fan and was grateful to have been invited to see the performance.
"It was brilliant, absolutely. Ten times better than what I thought it would be. And I knew it would be pretty good," he said.
Mrs. McRae also loved the performance.
"I enjoyed it," she said. "I think [they] … deserve a medal to be able to dance like that and use their limbs so beautifully. It's great. I enjoyed it. And thank you very much to whoever did it."
She appreciated the emcees who introduced each piece with a short explanation.
"I like the way the gentleman spoke to us and told us a little bit about what was going on … But they all need to be patted on the back, and a 100 per cent, thank you."
Mrs. Battam said: "I think it was absolutely the best show I've ever seen in my life. The dancing was perfect, the choreography and the timing was perfect. It was so expressive, a lot of feeling in it. The movements were exquisite, but they were perfectly timed. The choreography was technically difficult, but brilliantly done."
She praised how the dancers all flowed together, perfectly choreographed to move in synchronised patterns. "It was so many of them doing it in perfect unison. And, the costumes were unbeatable," she said.
Classical Chinese dance has its own bearing, form and technical skill, the company website explains.
"It was just brilliant. It took the best of everything in the world, and put together. It was 'Wow.'" Mrs. Battam concluded.
Reporting by Luke Hughes and Raiatea Tahana-Reese.
Shen Yun Performing Arts, based in New York, tours the world on a mission to revive traditional Chinese culture. Shen Yun Performing Arts New York Company will be in Sydney Australia through May 6.
For more information, visit ShenYunPerformingArts.org.