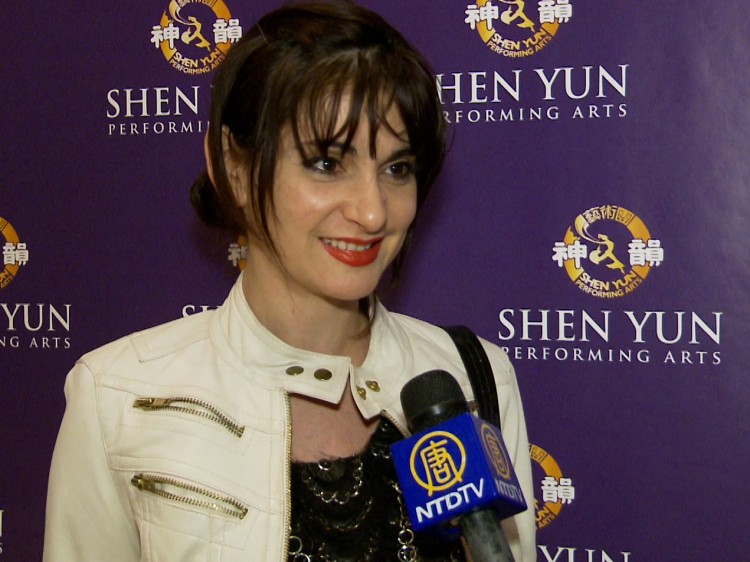 NEW YORK—Actress and filmmaker Yelena Sable, whose work has been featured at the International Film Festival in Manhattan, said Shen Yun Performing Arts' performance on Wednesday in New York "was beautiful" and moved her to tears.
"I was crying, but it was happy tears because it was so beautiful," she said of the performance, which was at the David H. Koch Theater in Lincoln Center.
The essence of thousands of years of Chinese culture and civilization comes forth in Shen Yun's performances, the company says.
"A performance by Shen Yun is a presentation of traditional Chinese culture as it once was: a study in grace, wisdom, and the virtues distilled from the five millennia of Chinese civilization," states its website.
Ms. Sable said the performance "shows there is so much beauty in the world and that words are not needed, and people should stop being aggressive towards each other, and really believe in divine power, the higher power, and spirituality."
The morality and spiritual values of China originate in Confucianism, Buddhism, and Taoism, which comprise the "ideals are the essence of traditional Chinese culture," the website says. The company says that the Chinese values are inspired from divine origin.
Much of the culture and spirituality of the Chinese people was lost under decades of communist rule. The company states that it seeks to revive these traditions through the arts, mainly through classical Chinese dance, with a digital backdrop, colorful, handcrafted costumes, and an orchestra that melds both Western and Chinese instruments
Classical Chinese dance is considered among the most comprehensive in the world and is said to distill the essence of China's culture.
The dance and performance is really helpful for artists, said Ms. Sable. "After watching something like this, I just want to keep on creating because I am a writer and producer and I just want to keep creating to make something beautiful."
Reporting by NTD Television and Jack Phillips.
Shen Yun Performing Arts, based in New York, tours the world on a mission to revive traditional Chinese culture. Shen Yun Performing Arts Touring Company will perform at the David H. Koch Theater at Lincoln Center through April 22.
For more information, visit ShenYunPerformingArts.org.