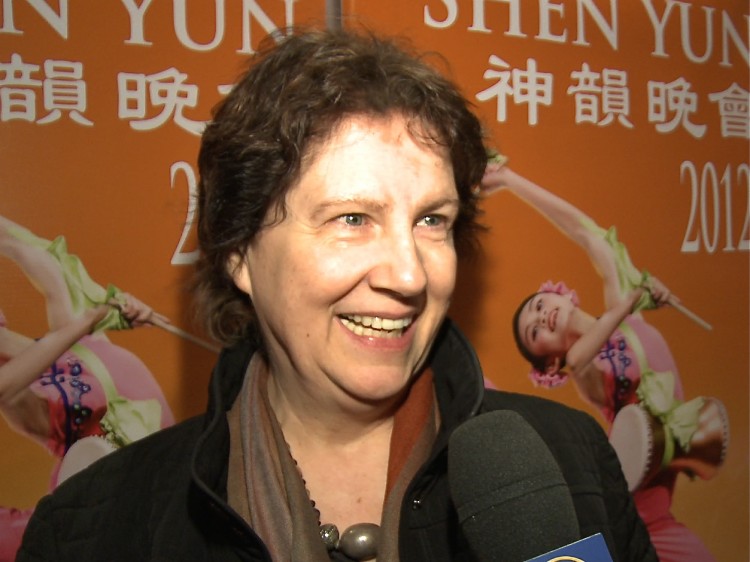 SEATTLE—Regina Hackett is an award-winning arts critic who has been blogging about visuals arts since the Seattle Post-Intelligencer stopped printing. She continued her column "Arts to Go" online after the paper's demise. She saw Shen Yun Performing Arts at the Marion Oliver McCaw Hall on Feb. 7.
"I loved it. It was innovative, beautiful, simple, harmonious and very skilled," said Ms. Hackett. "I've never seen the backdrops open up like that to include characters coming down out of the sky who then become the dancers. That has to be timed so perfectly, I thought it was beautiful."
Unique to the New York-based company are digital backdrops choreographed to match a collection of stories that highlight China's divinely imparted culture, suppressed over six decades of communist rule.
Ms. Hackett said she thought Shen Yun had a wonderful range of stories—traditional and contemporary—ranging from beloved legends to modern-day China.
"I loved the snowflakes. (Snowflakes Welcoming Spring) I was amazed because they toss and catch, and I liked (the dance gestures) that are deeply rooted in culture and I like the contemporary pieces," Ms. Hackett said.
She said she was touched by "the tribute to Falun Gong—the piece about meditators in the park being attacked by the police." (The Choice) described an injustice, "and yet [Shen Yun] took it to another level, a spiritual level."
She said even in the face of such injustice, one can find a "radiant peace inside and be strong. I thought they did that quite beautifully, because this is not an angry show even though there is so much injustice. This is a show that says Chinese culture is very old and rich and we're defending that."
Initiated in 2006, Shen Yun now has three equally large companies touring simultaneously on four continents
"It's very powerful. I think it will bring the issue—it's amazing—how do you get people's attention? I think Shen Yun is trying to do it with beauty and that's a very powerful force."
Ms. Hackett said that China's past is "part of our spiritual heritage … This show has a big, rich sense of history."
Her description of classical Chinese dances and ethnic traditional dances was similar to what the company website reads: "a presentation of traditional Chinese culture as it once was: a study in grace, wisdom, and the virtues distilled from the five millennia of Chinese civilization."
Reporting by NTD Television and Raiatea Tahana-Reese.
Shen Yun Performing Arts has three touring companies that perform simultaneously around the world. Shen Yun Performing Arts New York company landed in Japan, Feb. 11, ready to kick off its Asia-Pacific tour.
For more information, visit ShenYunPerformingArts.org