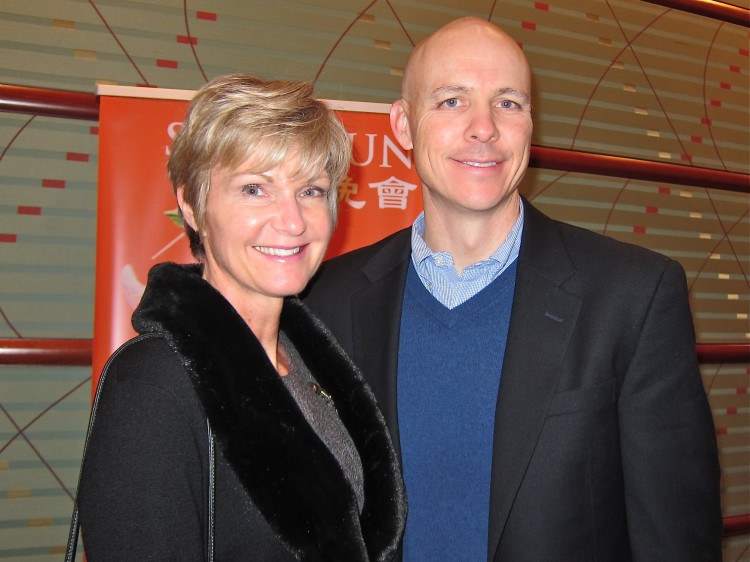 CINCINNATI, Ohio—"Spectacular! … Everything was lighter than air," is how Julie Sims, a school guidance counselor, described her experience of watching Shen Yun Performing Arts at The Aronoff Center for the Arts, on Friday evening, Feb. 3.
"It was a delight, a visual delight," she added. Her husband, Jason Sims, a business lawyer, agreed with his wife's impressions of the performance.
"It was a fabulous show," Mr. Sims said. "The colors were very vibrant. It was amazing the costumes and how brilliant the colors were."
"Elegant is the best word to describe it," he said.
Shen Yun is based in New York and has three touring companies that perform simultaneously around the world. Its mission is to revive and bring to life the true traditional Chinese culture, the culture that was destroyed by the Cultural Revolution.
"Having gone to China in the past year, we did not experience the classical Chinese dancing that was exhibited here," Mr. Sims noted.
Classical Chinese dance is at the heart of every Shen Yun performance and is a system of dance that is nearly as old as China's civilization itself, the company says. Classical Chinese dance has incredible expressive powers and is both emotive and energetic.
Mr. Sims described it as "a combination of color and vibrancy, [a] combination of just the smoothness and elegance."
It also reflected "the way the dancers moved from transition, from one move to the next … and they work in concert together."
He stated that those were the things that made the show. "And, with great energy," Mrs. Sims added. "It was amazing!"
The Shen Yun Performing Arts Orchestra is another key element of the performance with original music and its unique sound of classical Western and traditional Chinese instruments.
"The orchestra was fabulous and the combination of the traditional Chinese instruments and classical Western orchestra was a great combination that worked very well," Mr. Sims said.
Tickets are still available for the Saturday evening performance of Shen Yun at The Aronoff Center for the Arts, Feb. 4.
Reporting by Valerie Avore and Cat Rooney.
Shen Yun Performing Arts has three touring companies that perform simultaneously around the world.
For more information, please visit ShenYunPerformingArts.org