Shen Yun Entertains and Inspires Philadelphia Audience
April 26, 2014 10:08 pm Last Updated: April 26, 2014 10:28 pm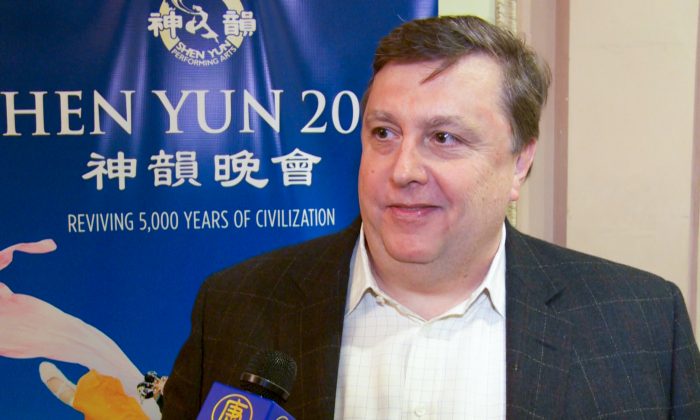 PHILADELPHIA—Watching Shen Yun Performing Arts perform at the Merriam Theater in Philadelphia on Saturday afternoon, April 26, was an entertaining and new experience for Philip Seasock.
"It was very entertaining," said Mr. Seasock, a graphic artist, after watching the first half of the performance. 
"It's wonderful, the costumes the dancers perform in, they go well with the brilliant lights, very colorful, very precise," he said.
Shen Yun was founded in 2006 with the mission to revive 5,000 years of divinely inspired culture. 
Since its inception the company has become a global phenomena, performing for millions around the world.
Mr. Seasock said he was particularly struck by the digital animations used in the performance. 
Part of Shen Yun's performances is the use of graphics technology to create vividly animated backdrops. The animated backdrops reflect China's multifaceted geography, and expand and transform the stage.
"I've never really seen anything quite like this before," said Mr. Seasock. "It adds a lot," he said.
Also attending the performance Saturday afternoon was Cathy Rosenwald. 
"It was fantastic, I enjoyed every minute of it. It was so well done, so well choreographed … it was very very entertaining," said Ms. Rosenwald, a French teacher, after watching the performance.
Ms. Rosenwald said she was particularly impressed by the classical Chinese dance. 
Classical Chinese dance is at the center of Shen Yun's performances. Its dancers, many of whom are award-winning, embody extraordinary talent from around the world.
"I couldn't get over the stamina of the dancers. They just went from one to the next. It was very very good to watch," she said.
Ms. Rosenwald also said she thought the music accompanying the performance was beautiful. 
"I loved all the different instruments that I heard and the way the orchestra was performing so well," she said.
Shen Yun's performances are accompanied by a full orchestra complemented with traditional Chinese instruments. Shen Yun's orchestra is unique in the world in that it successfully combines the musical systems of the East and West, creating a fresh, harmonious sound. 
The company also features solo singers.
"I never heard a voice like that, the last woman was just extraordinary," said Ms. Rosenwald, referring to soprano Haolan Geng performing the piece "Saving All Beings."
Shen Yun's singers use bel canto technique to sing Chinese lyrics. They do so while retaining proper Chinese pronunciation and diction. The lyrics of the vocal pieces are projected in both English and Chinese on the backdrop for the audience to read.
"It was very lyrical, very poetic, and very philosophical," said Ms. Rosenwald.
"I think it was very philosophical to think about were you are on Earth and where you are going to go, and that you should cherish the time you are here," she said.
"I feel very happy. I feel that I was entertained. [This is] something I would tell others to see because it was just so beautiful," Ms. Rosewald said.
Reporting by NTD Television and Jasper Fakkert
New York-based Shen Yun Performing Arts has four touring companies that perform simultaneously around the world. For more information, visit Shen Yun Performing Arts. 
The Epoch Times considers Shen Yun Performing Arts the significant cultural event of our time. We have proudly covered audience reactions since Shen Yun's inception in 2006.