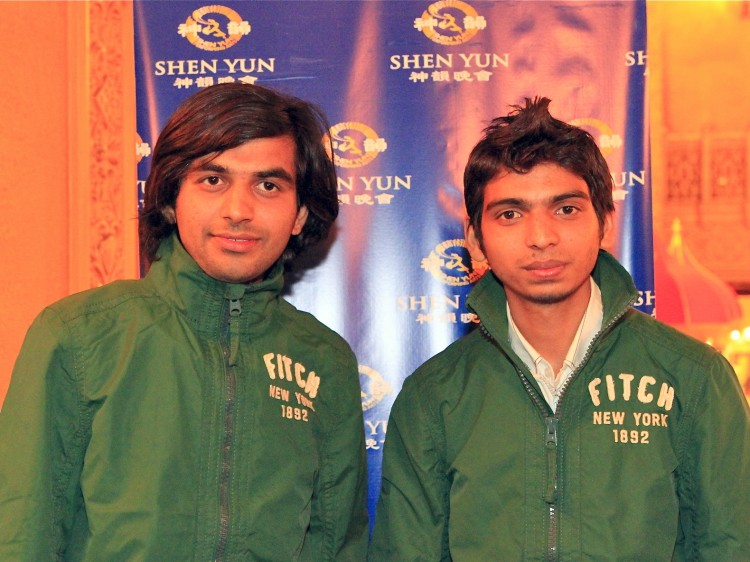 MELBOURNE, Australia—Shen Yun Performing Arts New York Company enchanted the audience at the Regent Theatre on Friday April 13. The audience was so moved by the performance that they often spontaneously responded with applause during a movement they particularly appreciated. For some, a heavenly experience.
Gouran Verma and Chetan Sharma, cousins, are engineering students from India studying in Australia. They decided to treat themselves to the New York-based Shen Yun's performance and were deeply touched by what they experienced.
Shen Yun endeavours to restore China's deeper spiritual core of the ancient culture of benevolence, honour, propriety, wisdom, and sincerity, as well as a reverence for the gods and the heavens, according to its website.
Mr. Verma shared that he liked dancing and had done solo dance performances at school.
"Tonight's performance was so nice, they varied the music and the dance, they varied the ethnic and folk dances. I liked that," he said.
He was particularly taken with the dance movements, the choreography.
"The choreography was the best, this was shown in the performance. The choreographer of this performance must be the God of dancing.
"Perfect steps perfected, and that's very important in a show. It's very fantastic," he said.
The animated backdrops also caught his attention. Mr. Verma said, "The graphics were also phenomenal, they used the form of the screen and performance. [It was] completely first class.
"Very good, every step was perfect, very nice, very very nice."
Mr. Verma wanted to give a message to Shen Yun.
"Always come with this performance so we can enjoy it more and more and more, and best luck for the future."
'I'm in Heaven' Watching Shen Yun
Chetan Sharma was so moved he felt he was transported to heaven.
"When you come here you just relax in the mind and you breathe in the clear and safe.
"I think I'm in heaven for however long the show goes on.
"When it comes and makes my ears like that a very clean environment, just peace."
Shen Yun tours with a live orchestra of classical Western and traditional Chinese instruments, a rare combination, playing original musical scores.
"I like the relaxing performance, it's classical music."
"I've really enjoyed it," he concluded.
Reporting by NTD Television and Leigh Smith.
Shen Yun Performing Arts, based in New York, has three touring companies that perform simultaneously around the world, with a mission to revive traditional Chinese culture. Shen Yun Performing Arts New York Company will next perform at the Canberra Theatre, April 17 and 18.
For more information, visit ShenYunPerformingArts.org.
Regent Theatre