Shen Yun Brings Fun to Chicago
April 5, 2014 12:10 am Last Updated: April 5, 2014 12:49 am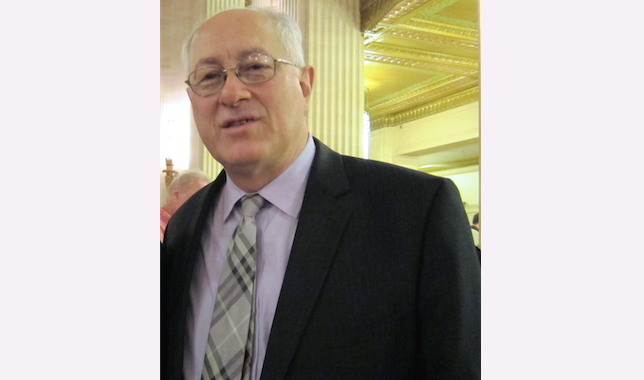 CHICAGO—"It's a very good job, I like it a lot. I like the show," Mike Toto said. Mike Toto and an old high school friend were having a very good time at Shen Yun Performing Arts on April 4 at the Civic Opera House.
Shen Yun, based in New York, presents classical Chinese dance and music to the world as it tours over 20 countries and 100 cities. Each performance includes orchestral music played by both Western and Chinese instruments, colorful backdrops and costumes, and award-winning vocalists.
Mr. Toto, a dentist from Palatine, started attending performances at the Civic Opera House in 1965.
"I really like the colors in the show, and the dancers are terrific!" said Mr. Toto said, mentioning the colors blue and gold as prevalent.
At the heart of Shen Yun is classical Chinese dance, considered one of them most expressive and challenging dance systems in the world.
"It's a very good mesh or union of Eastern and Western styles they are doing," his friend said, speaking in particular about the orchestra.
According to the company's website, "a Western philharmonic orchestra plays the foundation, while traditional Chinese instruments lead the melodies."
The friends had made a full evening by attending a Chinese restaurant first. And now we are hungry again, Mr. Toto said, as his friends laughed.
The pair had discovered Shen Yun at the flower and garden show and decided to attend.
Shen Yun captures 5,000 years of China's traditional culture through depicting legends, myths and classic literary tales.
"It was a real fun show!" Mr. Toto said.
Reporting by Valerie Avore and Sharon Kilarski
New York-based Shen Yun Performing Arts has four touring companies that perform simultaneously around the world. For more information, visit Shen Yun Performing Arts.
The Epoch Times considers Shen Yun Performing Arts the significant cultural event of our time. We have proudly covered audience reactions since Shen Yun's inception in 2006