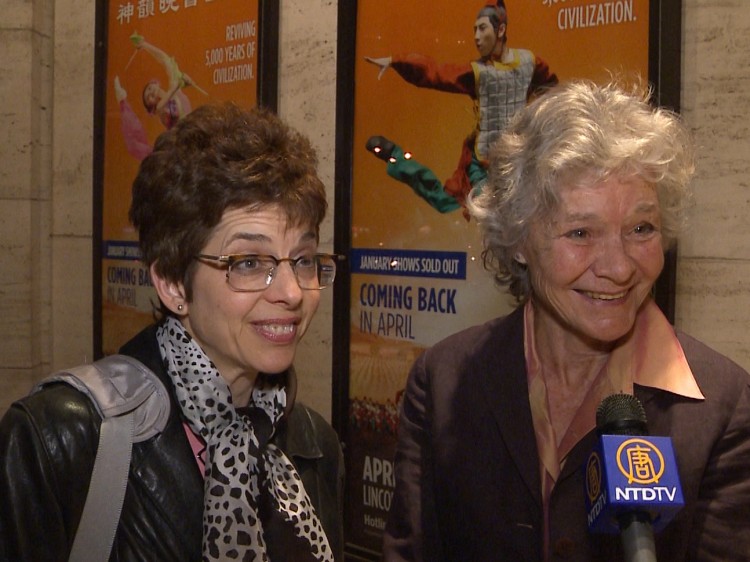 NEW YORK—Arts industry people seem to have a special connection to Shen Yun Performing Arts. Actress and musician Helene Jean Arthur is no exception.
"It was wonderful. It was just gorgeous. So completely unexpected," she said, after the performance at Lincoln Center Thursday night, April 19. "We never expected to see such beautiful choreography, beautiful costumes, wonderful music, and listening to the Chinese music that nobody has heard before. Very, very unusual."
New York-based Shen Yun was founded in 2006, says Shen Yun's website, and has three performance companies and orchestras traveling the world with one mission: to revive 5,000 years of divinely inspired Chinese culture after more than 60 years of communist rule in China threatened to destroy it.
"Classical Chinese dance is at the heart of the performance," says the company's website, "along with brilliant costumes, breathtaking projection, and an orchestra that combines both classical Western and Chinese instruments."
Ms. Arthur is a violinist in the Greenwich Village Orchestra and has acted in about 50 Broadway and Off-Broadway plays, according to the website.
"I saw the music was very traditional, 5 tones mostly 4-4 time," Ms. Arthur said.
The Shen Yun Orchestra combines a Western philharmonic orchestra, which plays the foundation, while traditional Chinese instruments lead the melodies.
Behind the dancers is a digital backdrop that takes the audience from the beginning of Chinese culture to modern-day China; from battlegrounds to the heavens; from secluded monasteries to flowering gardens.
"My goodness I never saw anything like it, having the characters disappear, it was wonderful," Ms. Arthur said. The performers interact with the backdrop to create the illusion that characters are moving in and out of the background.
Ms. Arthur noted that Shen Yun cannot be seen in China. "I was very moved by that," she said.
Over the past 60 years, China's 5,000-year culture has been co-opted by the Chinese Communist Party. "It is outside of China that Shen Yun's artistic creators have the ability to freely express themselves and their ancient culture. Their courage to speak up is an integral part of Shen Yun's spirit," states the company's website.
Ms. Arthur attended the performance with Margaret Emory, an editor at Brain World Magazine, and an ex-talent agent for Dulcina Eisen Associates.
"I liked it very much. I thought the precision of the dancers and they could be so graceful, so light and so together and doing multiple things," Ms. Emory said. "The choreography was very special, unique."
It was the first time Ms. Emory had seen Shen Yun. "It was at times very magic. Everything was a surprise," she said. "You must come—go see Shen Yun. See you next year!"
Reporting by NTD Television and Charlotte Cuthbertson.
Shen Yun Performing Arts, based in New York, has three touring companies that perform simultaneously around the world, with a mission to revive traditional Chinese culture. Shen Yun Performing Arts Touring Company will perform at the David H. Koch Theater at Lincoln Center through April 22.
For more information, visit ShenYunPerformingArts.org.